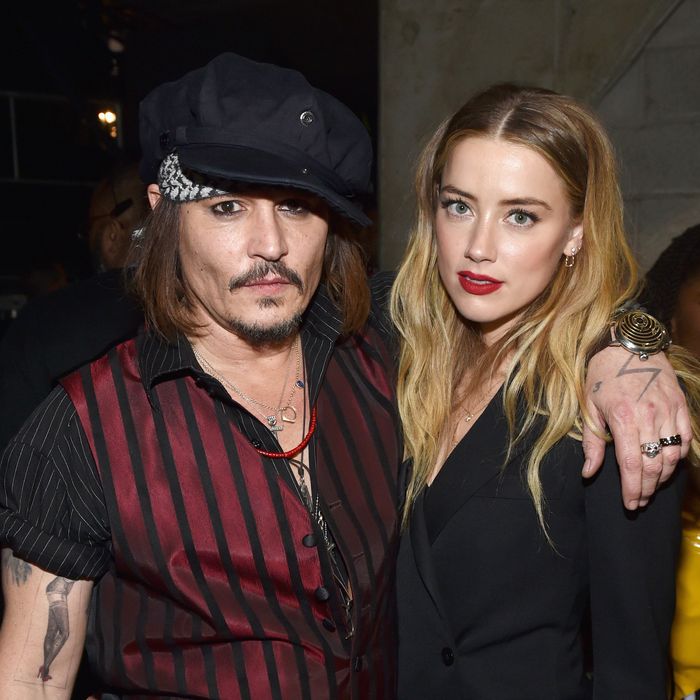 Photo: John Shearer/Getty Images
If things seem a little quiet on the Johnny Depp and Amber Heard front, there's a reason for that.
Aside from the usual glacial pace of legal proceedings, the two have been trying to quietly move forward with their divorce while each accuses the other of stalling the whole process.
Indeed, their lawyers have gone back and forth on matters without much agreement. So it's little surprise that Depp's lawyers held an emergency meeting with a judge on Tuesday to finalize a date for Heard's deposition, according to court documents analyzed by People.
The judge ruled that Heard must meet with Depp's legal team on August 6 for questioning. An earlier attempt in June to depose Heard was denied after the court found Depp hadn't given Heard at least a ten-day notice.
Heard's team has also filed court documents putting blame on Depp for dragging out the process by insisting that nondisclosure agreements be signed before he reveals his financial status.
"[Depp] and his counsel's demand for the execution of these two non-disclosure agreements which impose undue financial hardships and burdens on [Heard] are nothing but blatant threats by [Depp] and are illustrative of his continued attempts to thwart real progress in this case," the documents read.
Heard was responding to Depp's request last week to keep things ultraprivate. In addition to keeping his financial status out of the public eye, Depp's team asked that witnesses and experts also sign nondisclosure agreements. Any confidentiality breaches would cost Heard's team $100,000 per infraction.
The once-happy couple has been tangled up in a not-so-pretty breakup after Heard accused Depp of domestic abuse.