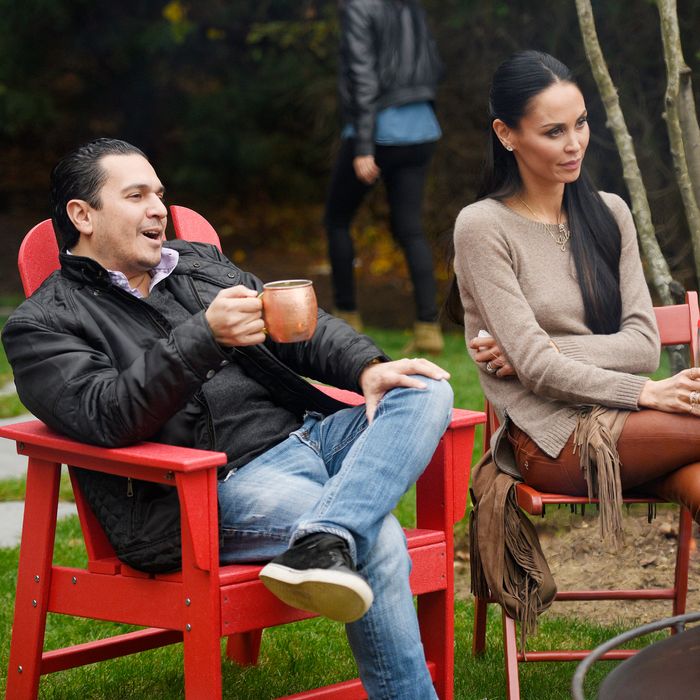 Michael and Jules Wainstein.
Photo: Matthew Eiseman/Bravo
Three weeks ago, another Real Housewives couple filed for divorce. Jules and Michael Wainstein, newcomers to RHONY this season, decided to call it quits after eight years of marriage. Their divorce is not like any other (insane) Real Housewives divorce, however. It has been nonstop drama since Jules reportedly caught Michael cheating with her close friend, prompting him to file the papers.
Since then, Jules has called the police to the couple's shared apartment and accused Michael of "threatening" behavior, and Michael's attorney, Mark Jay Heller (Lindsay Lohan's old representation), has claimed Jules abused Michael in 2012. Michael has denied cheating, and Jules's rep has called his lawyer's statements "disgusting." The back-and-forth may never end.
And now, after all of that, Us Weekly reports that the couple is … still living together. Aaah!
A source tells the tabloid, "Jules is going through a living hell. Michael cut her off so she has no way of paying for the kids." Meanwhile, Heller claims that "Jules' real goal is to create some drama to increase her stock on the Real Housewives."
Jules has yet to respond to that claim, but she did post the following quote on Instagram yesterday.