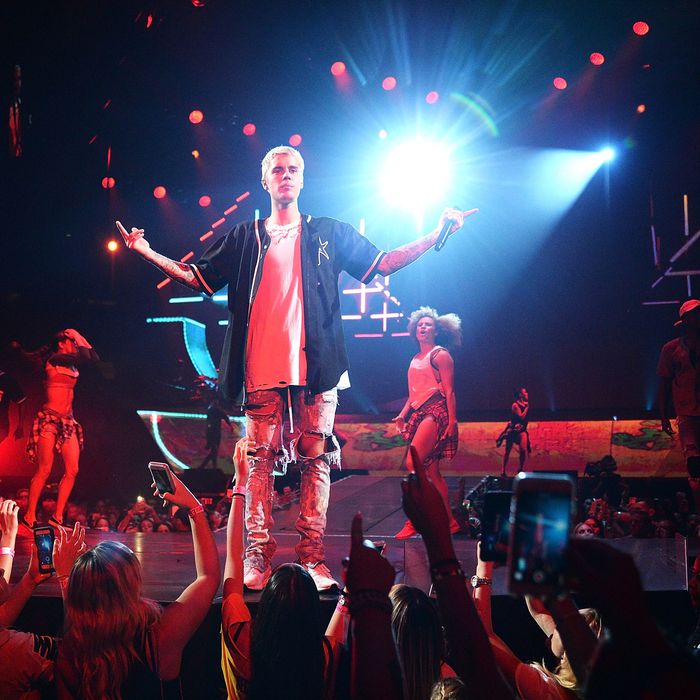 Photo: Kevin Mazur/Getty Images
Justin Bieber — eclectic dresser, shoeless mystic, wakeboarding underwear model, pint-sized Peter Thiel in kneesocks, animal lover, emo teen — is hard to love. Even after his stunning reinvention into dance-hall prince with Diplo and Skrillex's 2015 song of summer "Where Are Ü Now," his public persona continues to be so odious you may have felt yourself once again slipping into DisBelieber territory. Until!
Last night, Major Lazer (Diplo's electro group) released a new track, featuring Biebs and Danish singer MØ, and written along with Benny Blanco and Ed Sheeran (who also worked with Bieber on "Love Yourself"). The song is, unquestionably, a banger. It soared instantly to number one on iTunes, where we predict it will stay for the rest of the summer. Bieber serves up angelic vocals over a super-catchy beat reminiscent of Major Lazer's MØ–featuring smash "Lean On," along with some funky Latin guitar and tropical flourishes to top the whole thing off. You will not be able to escape this song.

Of course, the true hero in this is Diplo, who has now twice performed the Herculean feat of making Justin Bieber not only bearable, but even kind of lovable. Diplo and Bieber: truly the Lennon and McCartney of our time, if Lennon wrote and produced all the songs and McCartney had a dope face tat.