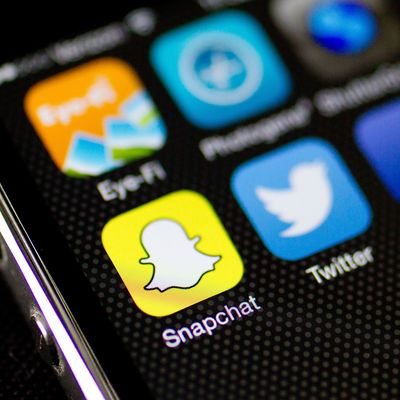 Photo: Andrew Harrer/Bloomberg/Getty Images
A teen's screenshots helped solve a horrifying Massachusetts rape case in which a teen recorded and shared Snapchat videos of his two friends sexually assaulting an intoxicated 16-year-old girl in the woods.
On Tuesday, a jury convicted Rashad Deihim, 21, and Kailyn Bonia, 20, of sexual assault. Sometime after 10:30 p.m. on September, 3, 2014, the Snapchat story began with Timothy Cyckowski, another teen who met the group in the woods behind a Saugus, Massachusetts, elementary school. When Cyckowski started recording Bonia and the girl kissing on his phone, the alleged survivor told him to stop, according to court testimony. He kept recording.
That night the girl's friend, 18-year-old Sydnee Enos, opened three Snapchat videos from Cyckowski showing the attack. She took screenshots as she watched: Enos testified that in one clip, her friend stood naked in the woods, slurring the word "Stop" while reaching toward the camera. The other videos showed Bonia gripping her "almost in a headlock," kissing her neck and fondling her, and trying to force her to perform a sex act on Deihim from her knees.
Enos called Cyckowski to find out where they were and told her parents. Her dad notified the police, who found the girl half-naked in the woods "literally within hours of dying" from alcohol and drug overdose, according to prosecutors. An emergency-room doctor testified she was nearly unconscious, bruised and scraped, and was revived with Narcan twice.
In court, defense lawyers argued the recorded encounter was consensual, while prosecutors said she was too intoxicated to consent. Now 18, the alleged survivor told the court she remembered bringing a vodka bottle to share with Deihim and Bonia, and recalled Bonia groping her. "I remember saying, like, 'Stop taking pictures of me,' like I was naked and I was getting flashes," she testified, according to CBS Boston. "I remember saying like, 'Stop, I don't understand what's going on.'" She remembered waking up nude and confused.
Enos's screenshots were shared with the jury. Prosecutors also obtained some of the videos from Snapchat through a preservation order and a search warrant.
On Tuesday, Deihim and Bonia were found guilty of multiple assault and battery, attempted rape, and kidnapping charges. After the conviction, in an interview with the Boston Globe, the girl's mom thanked Enos and Enos's mom, who also testified during the trial.
"Sydnee is amazing. … If it wasn't for her, let me tell you something, I don't think they would have found my kid," she said. "She saved my daughter's life."
Deihim and Bonia will be sentenced on September 6. Cyckowski, the teen who shared the Snapchat videos, previously pleaded guilty to several charges. His father also pleaded guilty to destroying evidence and was sentenced to probation for misleading investigators.