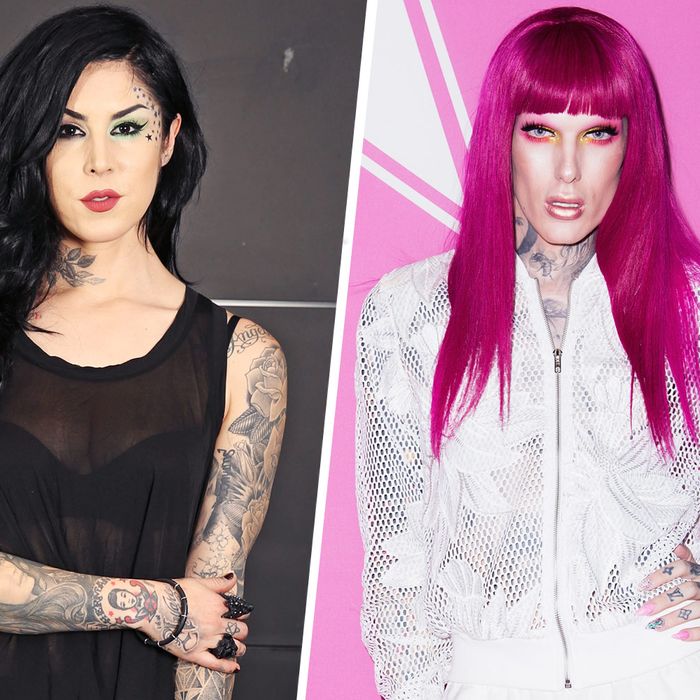 Kat Von D and Jeffree Star
Photo: Getty Images
There's no feud like a beauty-world feud, and the latest and pettiest involves two major celebrity gurus: Kat Von D, high priestess of "tattoo eyeliner," and Jeffree Star, self-appointed internet makeup cop. Collectively they've amassed more than 12 million followers on social media and have the kind of die-hard followers that make the Beyhive seem like a handful of cuddly ladybugs. The two friends just had an epic falling-out, and it's a tale that involves allegations of theft, abusive behavior, racism and Nazis, assault, and a good ol' Kardashian plug.
A bit of background first. Jeffree Star is a celebrity with a throng of slashes behind his name. He's a musician, he's an entrepreneur, he's a makeup artist, and, at one point, he was kind of a big deal on Myspace. His fashion line, Beauty Forever, showcases an eclectic cluster of printed tees and beanies. There's "Flawless" on a hat for $15, "We Are the Weirdos" on a backpack for $20, but if you are pining for the "You Can't Twerk With Us" tank top, retailing for $23.99, you're out of luck — it's sold out.
In 2014, Star launched his eponymous beauty brand. As small brands go, it's quite successful, and it's not hard to see why. Before branching into highlighters and a colorful eye-shadow palette, Jeffree Star Cosmetics specialized in liquid lipsticks, and — as one knows — the current appetite for creamy-yet-matte lipsticks is an insatiable one. This is where the feud with Kat Von D comes into play, though, depending on whom you might ask, the story takes on different dimensions.
In terms of makeup empires, Kat Von D's trounces Star's. For one, it's been around much longer — since 2008, in fact. Von D birthed the line after starring in tattoo-artistry hallmarks Miami and LA Ink. Her makeup line is widely successful, and Lolita, a creamy dusty rose, is the best-selling lipstick in Sephora.

Von D's entry into beauty has not been without controversy. Each of her lipstick shades are attached to a creative name, some more thoughtful than others. A bright-orange hue called "Underage Red" sparked the ire of concerned shoppers; "Celebutard," a peachy nude, enraged others. The former was met with an apology from Von D herself, while the latter was pulled from Sephora shelves.
On Monday, Von D released a photo of Star that featured a giant red slash across his face on Instagram. In the caption, she wrote:
After years of making excuses for, and rationalizing Jeffree's inappropriate behavior (including, promoting drug use, racism, and bullying) I can no longer hold my tongue after recent events. I know that over the years, many of you were introduced to Jeffree through me, and regardless if you chose to continue to follow him or not, I just would like to disassociate myself from him and his brand from this point on. I plan on posting a video explanation as to why I felt compelled to make such a statement. But for the time being, I simply want to apologize to anybody and everybody who has ever had to deal with any of his negativity. And yes, with a heavy heart, I will be pulling the shade "Jeffree" from my collection.
Star retaliated with a series of tweets alleging that when he launched his makeup line, Von D became distant and unsupportive. "She accused me of something that wasn't true, so I told her to fuck off and then blocked her number," he wrote. "This whole situation is sad and gross. I don't need to clap back or make a video about someone's post. It's getting trite."
In the video that followed, Von D explained she could no longer condone Star's penchant for bullying and hate speech. The straw that broke the camel's back, it seems, was when Von D learned of Star's failure to pay the artist who designed his beauty brand's logo. She even went on to detail her role in the creation of his beauty brand, explaining how she linked Star to factories to assemble his line, and how her suggestions were put to use on the brand's logo that he continues to use today.
Star's history of bullying has been documented on social media. He launched a targeted attack against Kylie Jenner and her lip glosses, outlining his belief that they are made of inferior ingredients. Before Kylie, he raged against Lime Crime, though most were in agreement about his concerns. "Educate yourself on where you're spending your hard earned money," he wrote on Instagram. A little over a year ago, he wore a jacket emblazoned with an image that resembles the Nazi eagle and posted it to Instagram. It received 25,000 "likes."
Most recently, blogger Stephanie Nicole outlined the brunt of his bullying in a video posted to YouTube. In it, she describes how Star lashed out at a young fan who gave a bad review on YouTube, how he issued a series of maligning Snapchats directed toward makeup artist Shayla Mitchell, and how, in an old video, he joked that throwing battery acid on a black woman's face was needed to help her skin match her foundation.
It's worth noting that obnoxiousness has been baked into Star's brand since the beginning. On one of his first singles, "We Want Cunt," Star brandishes his tender hold on the English language against a backdrop of synthesized pop music, robotically cooing lines like "Niggas on death row request me before their last meals," and "Asian tourists scream when I walk down the street. They worship me like Jesus, praying at my feet." Just when you think he's exhausted his personal dictionary of insults, he sings, "I'm not doing your makeup, filthy preteen hoe. Spread 'em, forget 'em, and then say my name. I'm Jeffree Fucking Star, of internet fame."
Internet fame, of course, can quickly get ugly. Star denies not paying the logo artist for his work, and insists there are two sides to every story (he has yet to deny accusations of racism). "I'm traveling on a tour bus with bad wifi. My side of the story will be uploaded in a video tonight," he said on Snapchat Tuesday. We wait.
UPDATE:
On Wednesday evening, Jeffree Star uploaded a video to YouTube to explain his side of the story. In the 23-minute video, he says his relationship with Von D deteriorated after she broke off all forms of communication six months ago without any explanation. Providing text messages as evidence, he explains that he heard from Von D for the first time in six months on Friday, when she texted to inquire why he hadn't paid artist B.J. Betts for his contribution to the Jeffree Star Cosmetics logo. Both Betts and Star have since tweeted that all matters regarding payment have been resolved. Star emphasized his confusion and frustration at the events that transpired in the video below.