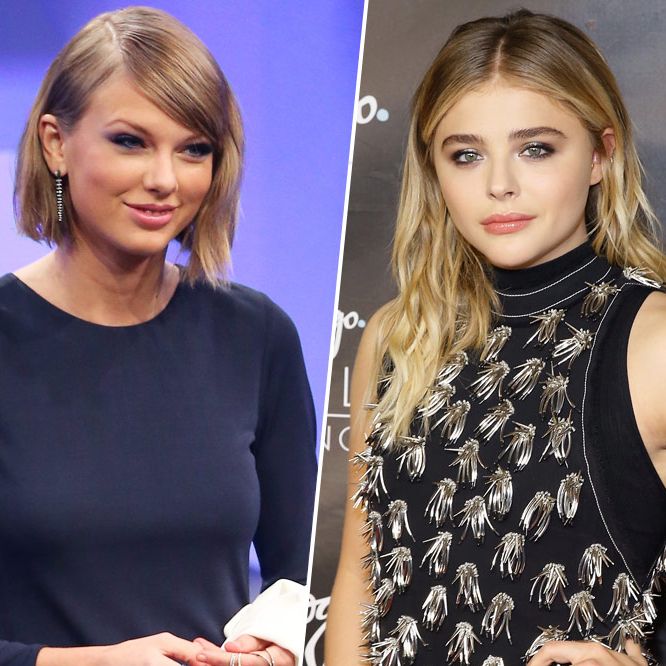 Taylor Swift, Chloe Grace Moretz, and Kim Kardashian.
Photo: Getty Images
Teenage actress Chloë Grace Moretz has been in the news a lot lately, for two reasons only: dating Brooklyn Beckham and tweeting at Kim Kardashian. These behaviors seemed to be working out fine in tandem … until today.
As you know — because I just told you — Moretz has a history of tweeting sort of rude things at Kardashian, like "@KimKardashian I truly hope you realize how important setting goals are for young women, teaching them we have so much more to offer than-" (new tweet) "@KimKardashian -just our bodies." It's silly, but it's her thing. So this week, in the midst of Kardashian's feud with Taylor Swift, Moretz tweeted about Kardashian again. Then Khloé Kardashian tweeted her back a photo of a butt. That's the story.
So what does this have to do with Moretz's boyfriend Brooklyn Beckham? Oh, boy. You have got to see this Instagram:
That is Brooklyn Beckham wearing a Kanye West shirt. The shirt says "bitch" on it. (Just saying.)
Yeah.
I know.
As commenter @casey.rmb noted, "LMAOOOOOOO HE REALLY DID ITNDNDNDMF".
Why would Beckham make this public display of not siding with Moretz in her quest to tweet at Kim Kardashian until something happens?
I bet Chloë Grace Moretz is going to find out!!!
Update: Beckham deleted the post. I wonder why.