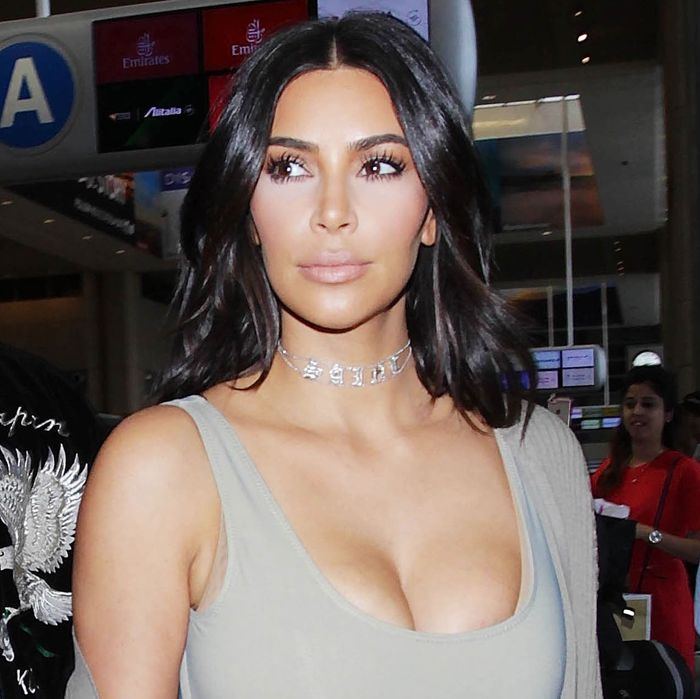 Photo: SMXRF/Star Max/Getty Images
This post has been updated.
What a week for people who enjoy draaaama! Yesterday, professional DJ Calvin Harris went off after we learned that ex-girlfriend Taylor Swift actually wrote the lyrics to his chart-topping Rihanna collaboration "This Is What You Came For," and now it appears that Kim Kardashian is also coming for the blonder half of Hiddleswift.
And in a new teaser for the upcoming episode of KUWTK, the usually peaceable Kim opens up about her decision to put Taylor on blast. "I never talk shit about anyone publicly, especially in interviews, but I was just like I've so had it. I just felt like I wanted to defend [Kanye] in it," says Kim, who accuses Taylor (without ever uttering her name) of backtracking on her promise to tell the press she was in on the "Famous" lyrics on the Grammy red carpet.

"Just another way to play the victim," Kim scoffs. "Definitely got her a lot of attention the first time. I just don't think he should be punished for it still to this day."
This, of course, is in reference to Kanye interrupting Taylor at the 2009 VMAs, something Kim also has thoughts about. "Yeah, Kanye definitely hurt her years ago when he did that, but it wasn't meant to be personal. It could have been anyone. Cause like, we all know Single Ladies was the biggest song of the year. So I think when she didn't win, he just wanted to stand up for it."
"I feel like I've had it with people blatantly treating my husband a certain way and making him look a certain way," Kim continues. "At this point, I really don't give a fuck so I'll do whatever to protect my husband."
Step aside, Calvin; hell hath no fury like a Kardashian woman scorned!