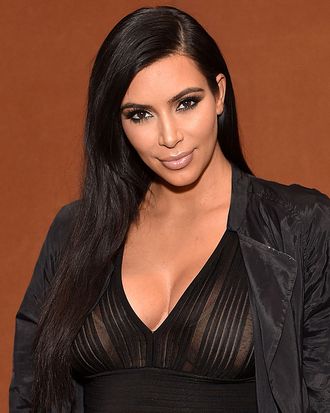 Photo: Stefanie Keenan/Getty Images
Kim Kardashian is the rare kind of person who's willing to fully commit to nailing the perfect body shape, outfit styling, hair, and makeup — you name it — for a special event.
So when people started speculating that she'd had her itty-bitty waist edited in the video for Fergie's new track "M.I.L.F. Money," Kim didn't hesitate to spill her secret.
But first, she wanted to clear things up:
"It's called 'styling,' not 'Photoshop'—LOL!" she wrote on her website.
Kim's hourglass figure was exaggerated for Fergie's video, thanks to some custom shorts that looked like denim but were made out of latex and had a corset in the back, she wrote on her website.
If Kim's body looked just a little unreal, that was the point.
The stylist for the video, B. Akerlund, wanted to create a kind of "real-life Kim Barbie," she told Pret-a-Reporter.
"I knew from the moment we met that I wanted to play with her insanely amazing body to create an extreme character we had never seen from her before," she said.
Kim's been having some fun reminding people that her shape wasn't edited in postproduction.
The caption?
"F–kYoPhotoShop #CorsetLife M.I.L.F.$."