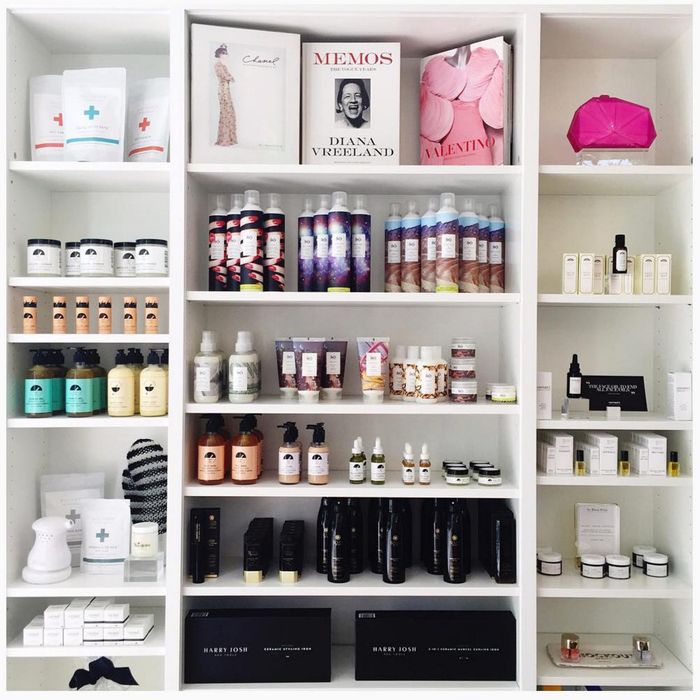 Knockout Beauty
Photo: knockout.beauty/Instagram
With so much information about beauty readily available, it's easier than ever for just about anybody to call themselves a beauty insider. But it takes more than just a love of Sephora to be truly worthy of the moniker. A new boutique called Knockout Beauty opened recently in Bridgehampton, and it comes from an honest-to-God insider, Cayli Cavaco Reck. She's the daughter of Paul Cavaco (former creative director of Allure, former fashion director of Vogue and Harper's Bazaar) and the late Kezia Keeble (once a fashion editor at Vogue). Keeble and Cavaco were the K and C in KCD, the fashion PR firm.
Knockout Beauty definitely looks the part, with blush pink rugs and furniture, fixtures, and photographs pinched from Reck's and Cavaco's apartments. On the shelves are artsy, indie products selected by Reck — and each one is dripping with pedigree. There are the Bleue Beauty masks, from Dylan Murphy, the 15-year-old daughter of model Carolyn Murphy, that look homemade and cost $48 each. There's the Baby Belle Bodybuffer, a vibrating, oscillating massage machine developed by another model, Nancy Donohue, who was big in the '80s, and engineers from MIT and Harvard. About three minutes after Reck demonstrated it on my right thigh, I handed her my credit card. It costs $199, and now that I own it, I'm not sure why.
My favorite thing in the store is the Supracor Stimulite Honeycomb Bath Mitt, which looks like an oven mitt designed by Karl Lagerfeld for NASA. It's made of a springy antimicrobial, antibacterial, mildew-resistant material that's used in bulletproof vests. Reck told me the mitt was originally made in unfashionable lavender and magenta, and when people from a certain unnamed luxury French fashion house saw it at a trade show, these mysterious unnamed people with impeccable taste asked if they could have it in black. Et voilà! According to rumor, it will be the scrubber of choice at the first spa at the Ritz Hotel in Paris, when it opens, allegedly in October. Not enough status for you? Linda Evangelista gave the mitt to her guests at her holiday dinner last December. The $38 mitt is a powerhouse scrubber, especially adept at removing self-tanner. Unlike a shower puff, it looks great. Unlike a loofah, it isn't festering with bacteria and mold. It's the most effective exfoliator I've ever used, and I've used a lot of exfoliators. I bought three and kept one, and I'm going back for more.