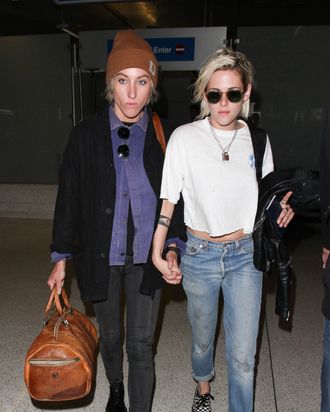 K. Stew with Alicia Cargile.
Photo: GVK/Bauer-Griffin/Getty Images
Love may have died last spring after Kristen Stewart and Soko's breakup, but remember K. Stew's devastatingly quick comeback: She appeared on the Cannes red carpet in May with on-again, off-again girlfriend Alicia Cargile, a film producer who reportedly once worked as her personal assistant. Rumors buzzed. Many missed Soko.
Now, in a new interview for British Elle's September issue, Stewart officially confirmed she's dating Cargile, and this time around it's better than ever: "We've broken up a couple of times and gotten back together, and this time I was like, 'Finally, I can feel again.'" She said dating women freed her to be more open about her relationships in the media:
When I was dating a guy I was hiding everything that I did because everything personal felt like it was immediately trivialised, so I didn't like it. We were turned into these characters and placed into this ridiculous comic book, and I was like, 'That's mine. You're making my relationship something that it's not.' I didn't like that. But then it changed when I started dating a girl. I was like, 'Actually, to hide this provides the implication that I'm not down with it or I'm ashamed of it, so I had to alter how I approached being in public. It opened my life up and I'm so much happier.
Sweet summer love. Can't wait to follow this cool couple.