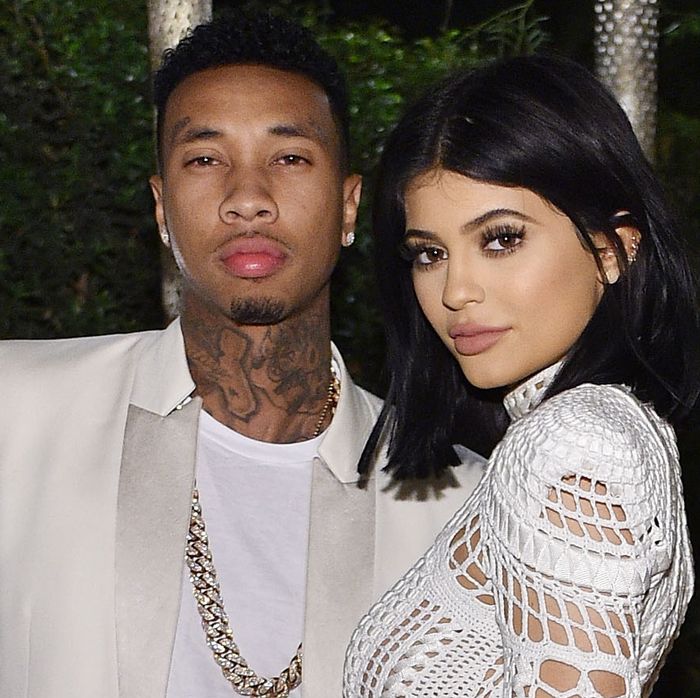 Photo: Stefanie Keenan/Getty Images for Beats by Dre
It's hard to keep up with the ups and downs of Kylie Jenner and Tyga's relationship, but one thing is for sure: They went to see a movie Friday night, which is definitely a date-night thing, and they also seemed to be posing for the paparazzi, which is also a romantic thing to do.
You don't go see a movie on Friday night with someone you are just friends with or maybe seeing or occasionally banging. You go with friends — maybe your Dungeons and Dragons group or your coven or your Ghostbusters fan club — or you go with a date. Do the math.
Other details that bolster this theory include hanging out and/or smooching at two high-profile events (Kim's birthday and the premiere of Kanye's "Famous"!) and a damning Snapchat video wherein Kylie notes that some particularly outré nail designs remind her of her "husband."
It makes sense that they'd choose to see The Purge: Election Year, since it seems to be one of the more successful genre series out there. Plus, Frank Grillo is easy on the eyes. Everything else that opened this weekend is pretty dismal, and besides, Kylie's already seen The Neon Demon, which hit a little too close to home.