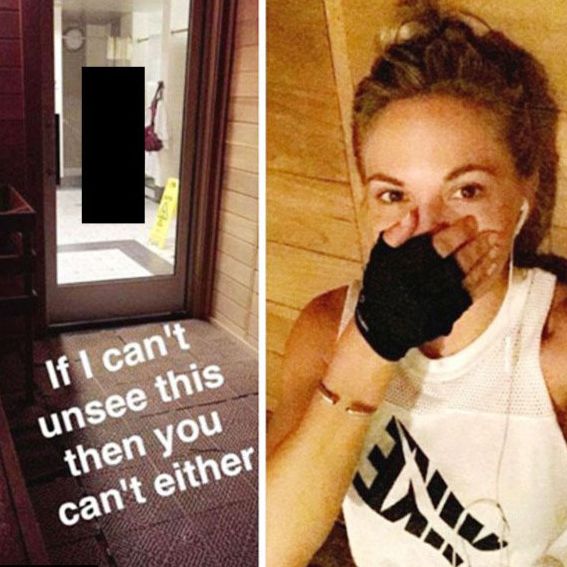 Photo: Courtesy of Snapchat/Dani Mathers
LA Fitness isn't resting on its well-toned laurels when it comes to pursuing justice for the woman whose refreshing, post-workout shower was shared over Snapchat.
Last year's Playmate of the Year, Dani Mathers, is officially super-sorry for making all of your high-school nightmares come true by Snapchatting a photo of a naked woman in her gym locker room. Unfortunately for her, sorry just isn't enough for gym chain LA Fitness. The management filed a police report against the model on Friday, and now the Los Angeles Police Department has launched a formal investigation into the incident.
A spokesperson for the LAPD told the Wrap that the crime they're investigating is "the dissemination of private images," ominously adding that "it would be up to the city attorney to determine how much time Mathers would face" if convicted. (It would probably be six months at most.)
If "Jane Doe" declines to pursue the case, the charges against Mathers will be dropped. Honestly, who could blame her? Meanwhile, the stench of social-media shame will follow the model wherever she goes, and that's its own sort of twisted, modern-day justice.