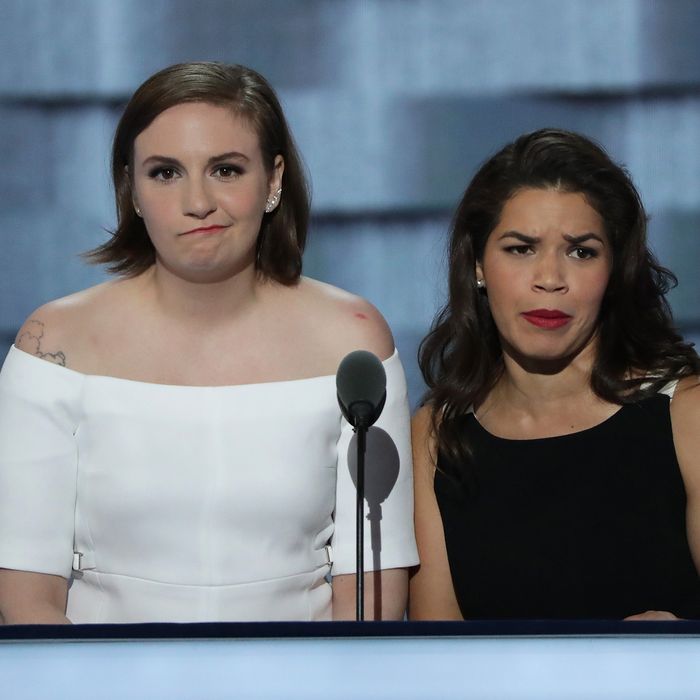 Photo: Alex Wong/Getty Images
Lena Dunham and America Ferrera have heard Donald Trump's comments about women and immigrants. You know, the ones where he's called women insulting names and Mexican immigrants "rapists" and criminals.
So when the two of them took to the stage at the Democratic National Convention on Tuesday evening, they jumped right in and roasted Trump.
"Hi, I'm Lena Dunham, and according to Donald Trump, my body is probably like, a 2," Dunham began.
"And I'm America Ferrera, and according to Donald Trump, I'm probably a rapist," Ferrera added.
Note: Ferrera is the daughter of Honduran immigrants, a fact Dunham pointed out as such. "But America, you're not Mexican," Dunham said.
"And President Obama isn't Kenyan, Lena, but that doesn't stop Donald," Ferrera snapped back, with a smile.
What followed was a fun back-and-forth between the two actresses, who, for what it's worth, also acknowledged what everyone in the audience was likely thinking.
"We know what you're all thinking," Dunham said. "Why should you care what some television celebrity has to say about politics?"
"And we feel the same way," Ferrera countered. "But he is the Republican nominee, so we need to talk about him."
The two used their time onstage to highlight the contrast between Trump and Clinton, particularly in terms of women's health and immigration. Ferrera highlighted her own journey through the public education system, while Dunham spoke about her pro-choice, feminist stance and her life as a sexual-assault survivor with a chronic reproductive illness.
She continued: "His rhetoric about women takes us back to a time when we were meant to be beautiful and silent." (That got a big thumbs-down from Ferrera.) "Meanwhile, 22 years ago, Hillary Clinton declared that women's rights are human rights."
Watch the full speech below: