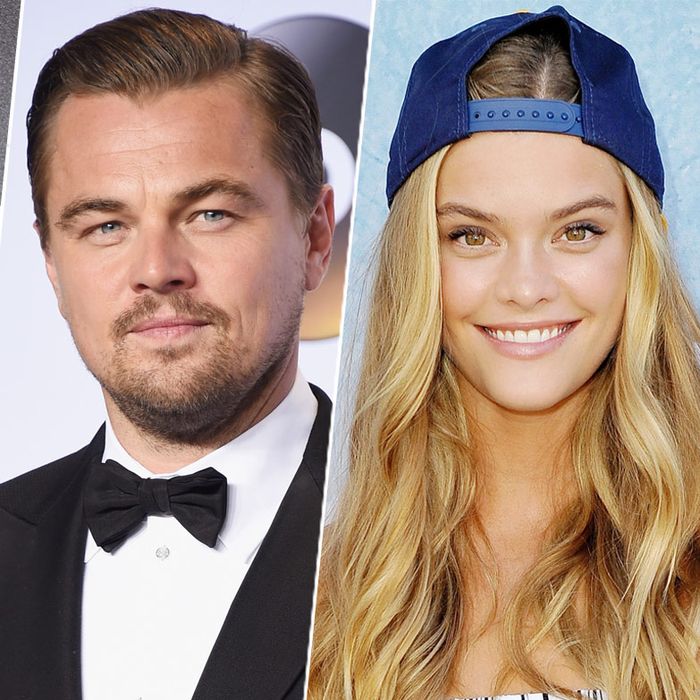 Tobey Maguire, Leo DiCaprio, and Nina Agdal.
Photo: Getty Images
After hosting a model-filled fundraiser in St. Tropez last week, Leonardo DiCaprio was spotted partying yesterday (again). His friend and longtime Pussy Posse member Tobey Maguire was there. His current 24-year-old model girlfriend, Nina Agdal, was there. Can you guess where they were partying?
If you guessed "a yacht in Ibiza," you guessed right.
According to People.com, DiCaprio, Maguire, and Agdal were spotted on the yacht with "their closest friends." They sunbathed and jumped into the ocean. Agdal wore "a black sundress over her bathing suit," and DiCaprio wore "a blue swimsuit and white t-shirt." Maguire wore a swimsuit with little turtles on it, which you can see here.
DiCaprio and Agdal have been spotted on several vacations now. Previously, they smoked cigarettes in Montauk and made out on the beach in the Bahamas. And now they have hung out with the Pussy Posse on a yacht in Ibiza.
Next up: the International Women's Air & Space Museum in Cleveland, Ohio. (Unconfirmed.)