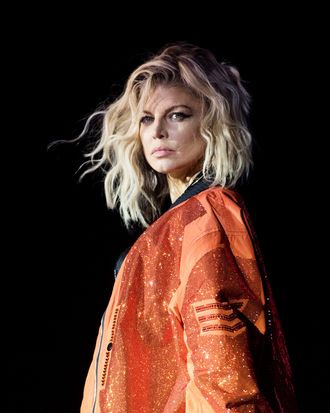 Fergie.
Photo: Noam Galai/Getty Images
Ever walk into a party and been positive from the jump that it's irredeemable? "Dante is rewriting Inferno to include this party," I texted a friend upon crossing the sad threshold of the Creative Coalition's much-anticipated gala at the DNC last night well after midnight. Fergie had just taken the stage and was singing songs off her new album that nobody knows, valiantly trying to get the maybe 150 people in Philadelphia's vast Electric Factory nightclub, which could fit 20 times that crowd, to show some, any level of enthusiasm. It was the party equivalent of a deflating balloon.
Fergie, bless her heart, was treating a clearly tired crowd of passive onlookers like they were Madison Square Garden. She thanked the Creative Coalition (a lobbying group made of entertainment professionals), strutted around the stage in a black latex body suit, black latex knee-high boots, and a bomber jacket — an outfit like a modern twist on assless chaps — and threw out her endorsement: "Hillary Clinton is a mom I'd like to follow! I'm dedicating this song to her! I'm with her!" Tepid applause.

But like Hillary, Fergie is not a quitter. She switched her black bomber jacket with a green sparkly one — upping her game — and started calling members of her band forward to solo while she grinded up against them. First came a saxophonist, then a guitarist. Finally, she jumped up to the platform where her drummer was playing and shook that inspirational 41-year-old ass of hers, beckoning for another member of her band to toss drumsticks across the stage for her drummer to catch while he was playing. He missed every throw. "We're musicians, not athletes," said Fergie with a smile and jumped down to shake that ass more. For the first time all evening, I laughed.

Fergie switched to a white cardigan and told the crowd, "I'm just a girl from Hacienda Heights [California] with big dreams, huge dreams! And this is what this is all about. Dreaming big, dreaming huge, telling our kids to dream huge, and dreaming about something bigger than yourself!" She launched into her hit "Big Girls Don't Cry," and left the stage to healthy applause. The crowd — what it was — headed to the bar. But was Fergie done yet? Not even close!

Ass still defiantly on display, she roared back to the stage in a bedazzled leather jacket with long fringe hanging from her arms and tore into Led Zeppelin's "Black Dog," and then Heart's "Barracuda," which she sang while rolling on the floor. Woman has pipes, and core strength, apparently. Then she launched into "Purple Rain" as a photo of Prince loomed on a screen behind her. All 150 of us raised our hands in the air and swayed back and forth. It was the perfect closing note. But Fergie still wasn't done!

She changed jackets again and returned to the stage with a man beating bongos, dressed like a fluorescent Mardi Gras Indian, as dancers in white Hammer pants, one of whom looked like Asian male Tilda Swinton, got into formation behind him. Fergie busted out a Black Eyed Peas medley: "My Humps," "Rock That Body," "Don't Phunk With My Heart," "Meet Me Halfway." Woman has written some bangers. Respect. A new friend and I had a silly dance party on the bleachers at the back of the club and a disgusting guy wearing convention credentials asked if he should start giving us dollar bills. We pretended not to hear him, because we were too busy being in awe of what was happening before us, where one woman with blonde ambition was, through sheer force of will, turning a terrible party into a rager.

The music grew ominous. Fergie was on jacket 85 at this point. Her dancers in Hammer pants put on gold, faceless masks and started circling her menacingly. In the context of the DNC, it looked like a performance-art piece about Hillary under attack from her haters. The music swelled and suddenly Fergie was bursting forth, singing "Time of My Life" from Dirty Dancing — really, the intro to Black Eyed Peas' "The Time" — because nobody puts Fergie, or Hillary, in a corner.

The screens pulsated with blue and red pixels. A hypnotic call to unity? Fergie had left the stage, seemingly for the last time. But the crowd, who had totally not been into her in the first place, wanted more. "Fer-gie! Fer-gie! Fer-gie!" we chanted, just like we'd been chanting "Love trumps hate" and "No more war" in the arena earlier that night.

Fergie came out in her final jacket change — iridescent? — and announced she had a surprise. Taboo from the Black Eyed Peas stepped out on the stage to join her. This was newsworthy. Fergie hasn't performed with her former band in five years, and the Peas actually played a separate Rock the Vote concert earlier that night elsewhere in Philly, but here she was, being a bridge builder, a change maker. They wrapped their arms around each other and blazed forth with "Tonight's Gonna Be a Good Night."

And as if channeling her presidential candidate for the last time, Fergie — still singing — summoned a burly man to the stage, stepped onto his shoulders, and rode atop him through the crowd, shaking hands with her people.