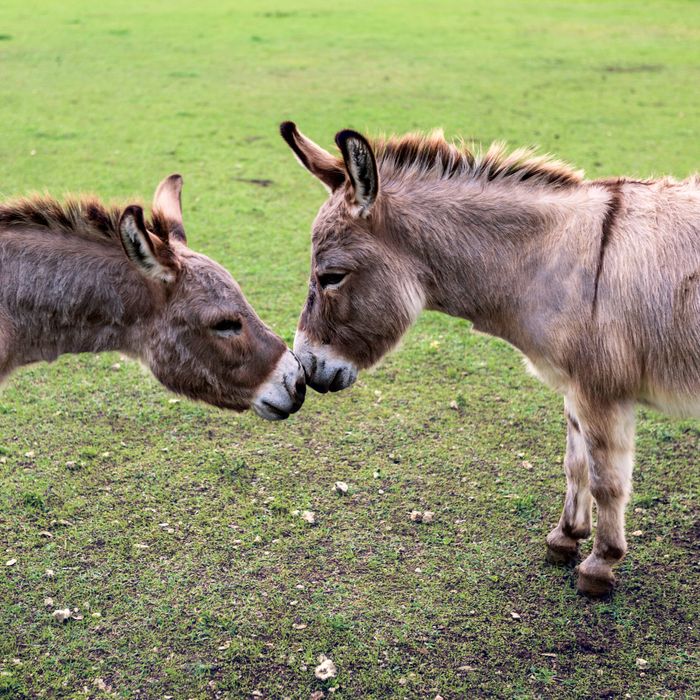 Photo: Yoela Chaveco-Cabrera/Getty Images
We've all heard of OkCupid, the dating website that was usurped by Tinder that was usurped by Bumble that was usurped by Coffee Meets Bagel, all of which were inevitably usurped by the need to just be alone forever. Now OkCupid wants you to know that people across the political spectrum are horrible at online dating. Maybe you're not so alone after all!
As the company has done in the past, OkCupid's team of researchers did a deep dive into information they found on profiles on the site, concluding that self-identifying liberals and conservatives were both highly predictable when it came to their online profiles — and perhaps a little performative, too. This is how OkCupid did their survey:
This analysis was gathered from 190,000 real OkCupid profiles. These users must have joined in 2016, been from the U.S., and indicated whether they were a "liberal" or a "conservative." On average, these users answered about 140 questions and their written essays had about 1,000 characters.
What collective information came from such a large pool of profiles? Well, this, for starters: "The phrase except rap appears on the conservative side, while hip hop is popular with liberals. These two phrases agree only when asking about sharing feelings." And then of course this: "The Daily Show, Broad City, NPR, podcasts and weed are highly distinguishing words for liberals" and that conservatives are "likely to use words related to the church and armed forces like Jesus, faith, guns and Marines." Oh, really?

But whatever your affiliated party, just know that we're all in this horrible dating game together: "Like the outdoors or going to the shooting range? So do a majority of conservatives interested in love. Liberals looking for love prefer museums, yoga and crying." Here's to true love and the right to a predictable dating profile.