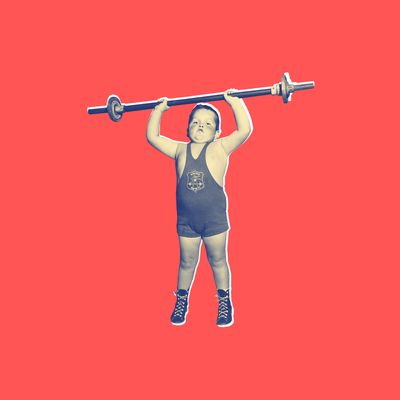 The standard, intuitive advice in weight training is that you should be lifting as close to your maximum for as long as possible, pumping iron until your body starts shaking. It's grueling. It's badass. Over time, it'll make you look like a Young Paul Ryan. And according to new research, it's unnecessary.
As Gretchen Reynolds writes at the New York Times Well blog, the orthodox advice is that you should find out what your one-repetition maximum weight is for a given exercise, then do 80 to 90 percent of that weight for eight to ten repetitions, and have that be the way you structure your workouts. It fires up your human growth hormone and testosterone, and over time, muscles grow in strength in size. But all that heaving can be intimidating to people — bad news since weight training has health effects (as in: smaller waistlines) that aerobic exercise misses.
Yet according to research being done by Stuart Phillips at McMaster University in Hamilton, Ontario, you could be doing lighter weights at more reps and getting the same results. In his latest study, Phillips and his colleagues recruited 49 young men who had been weight training for a year to take fitness and hormone tests before taking on one of two routines. One followed the traditional routine, lifting at 75 to 90 percent of his max until he couldn't anymore, around ten reps or so. The lighter group did between 30 and 50 percent of the max, then lifted to the point of exhaustion, which was more like 25 reps. They all did three set workouts of various exercises for four days a week for 12 weeks. Then they came back in to get tested.
Lo and behold, the gains were just about identical, save for the bench press, where the heavier-lifting group had a slight advantage. But for everything else, the strength increases were the same on every exercise, and muscle mass grew to the same extent. In the study, Phillips and his colleagues conclude that high-load/low-rep and low-load/high-rep trainings regimens "elicit a comparable stimulus for the accretion of skeletal muscle mass when resistance exercise is performed until volitional failure." In other words, both approaches yield the same results of exhausting your muscles. The key, Phillips speculates, that in both cases you're ending up with exhaustion, which leads to a "maximal activation of motor units," the teams of motor neurons and muscle cells that help you move. Two approaches, very nearly identical results. Runner's World columnist Alex Hutchinson calls this a "very liberating message," since it's not so much the exact weight or repetitions that drive your fitness gains, but how intensely you push. Whether you're lifting heavy or lifting light, the real key is to go hard.