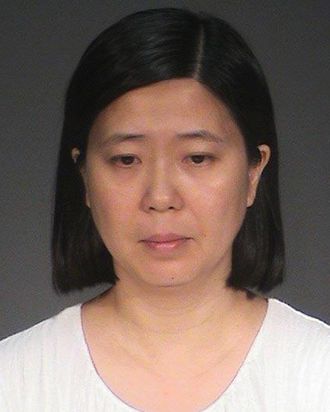 Lili Huang was charged with human labor trafficking.
Photo: Washington County Jail
A Minnesota woman is accused of starving and beating her Chinese nanny in a wealthy suburb outside St. Paul. She was charged with human labor trafficking and four other felonies on Friday. A county attorney likened the nanny's conditions to "slavery or indentured servitude."
The unnamed 58-year-old nanny claims Lili Huang, 35, beat and starved her. Police discovered the nanny wandering a street in Woodbury, Minnesota, on Thursday night. She had two black eyes, broken ribs, and a broken sternum.
Through a translator, the nanny told police she began working for the Huang family in Shanghai and moved to their Minnesota home in March. Given a room and promised $890 per month, the nanny said she was forced to work 18 hours a day while cooking, cleaning, and caring for the family's children — work that amounted to less than $2 an hour, payment she reportedly never received. Huang allegedly never let her out of the house and often assaulted her in front of the children, according to a press release from Washington County's attorney.
The alleged attacks happened in a large red-brick home in Woodbury, an upscale suburb east of St. Paul. When the nanny told Huang she wanted to return to China, Huang apparently took her passport and said she was "not going anywhere." The abuse apparently escalated this month: On July 4, Huang allegedly grabbed the nanny's hair and smashed her head on a table and other objects. The nanny said she was so hurt by the beatings on July 10 that she couldn't rise from her hands and knees for four hours. On July 13, Huang allegedly chased her with a knife and threatened to kill her after she accidentally spilled food on a counter.
When the nanny was found last Thursday, she told police she fled the house in search of an airport to go home. The nanny said she was 120 pounds when she came to the U.S. and now, after four months at the Huang residence, weighs 88 pounds. She said she was given scraps of food.
Agents from the U.S. Department of Homeland Security and police from four cities arrested Huang. While searching the home, they found a bag of hair under the nanny's mattress, which the nanny said Huang had ripped from her head. She said she hid the hair so she wouldn't be forced to eat it.
Huang appeared in court on Friday and was charged with five felony counts, including labor trafficking, seizing a passport while intending to violate labor trafficking, false imprisonment, assault with a dangerous weapon, and assault causing substantial bodily harm. She was held on $1 million unconditional bail and $350,000 conditional bail. Her next initial court appearance is set for August 18.
Nearly 21 million people were victims of forced labor worldwide, according to the International Labour Organization. In a press release announcing Huang's charges, Washington County attorney Pete Orput said human labor trafficking "amounts to nothing less than slavery in the 21st century. We are determined, as part of this office's Major Prosecution unit, to attack this issue just as we have attacked sex trafficking of juveniles."