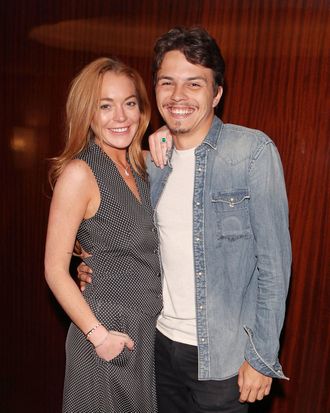 Lindsay Lohan and Egor Tarabasov.
Photo: David M. Benett/Getty Images
Lindsay Lohan, who played both Annie and Hallie in The Parent Trap (1998), turned 30 last week. According to "Page Six," she celebrated the occasion with her Russian businessman fiancé Egor Tarabasov and 70 other friends in Greece. Was there drama? Lindsay Lohan reports: No!!!!!!!!
She tells "Page Six" that all the rumors about her birthday party are lies. The Sun, for example, reported that after Lindsay saw a "suspicious text" on Egor's phone at the party, she threw it into the sea, "sparking a furious fight between the pair which prompted security to step in."
Seems like something that could have happened, no offense. But Lindsay offers this explanation to "Page Six":
"It had to do with my friend throwing his phone case in the water as a joke … because [guests] were making fun of it … People said I personally threw [the] phone, but it's all not true. It's a total fabricated lie!"
Ah, yes. It had to do with, um … phone in the water, ha-ha. Did I personally throw the phone? It's all not the facts. It's a lie lie. Amen.
This weekend, Lindsay discussed her relationship on Instagram, captioning a black-and-white photo of herself lying on a bench: "Falling in love in exhausting … Especially when you're the older woman and have already seen it all #love is the most important thing at the end of the day #serenity."
So it seems like everything is fine.