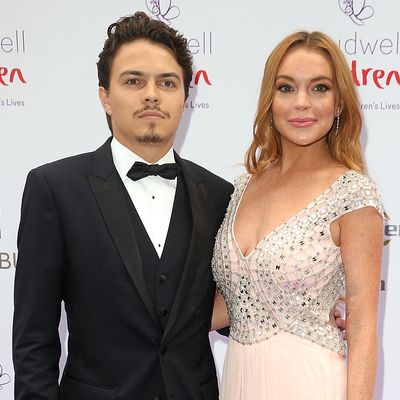 Photo: Danny Martindale/WireImage
Last weekend, some drama went down at the home of Lindsay Lohan and her now-former fiancé, Egor Tarabasov, which unfolded on a variety of social-media platforms.
Tarabasov was spotted moving his stuff out of Lohan's London apartment. Lohan's dad Michael "confirmed" that his daughter is pregnant, which is something she referred to in her now-deleted social-media posts. Meanwhile, Lohan has been chilling with some gal pals on a yacht off the coast of Sardinia. She took the time to share some hard-won wisdom with her Instagram fans, writing:
Dear friends. I'm good and well. #ATM I am taking time for myself with good friends. I am sorry that I've exposed certain private matters recently. I was acting out of fear and sadness … We all make mistakes. Sadly mine have always been so public. I have done a lot of soul searching in the past years, and I should have been more clear minded rather than distract from the good heart that I have. Social media comes with the territory of the business and the world we now live in. My intentions were not meant to send mixed messages. Maybe things can be fixed … Maybe not … I hope they can. But I am 30 years old and I do deserve a #GENTLEgiant Life is about love and light. Not anger 🙏🏻 Thank you to those who stand by my side.
Lohan also posted a pic of herself pretending to kiss a fish, with the meaningful caption, "Bonding with nature. I let my little friend swim away after." A lesson for the ages.