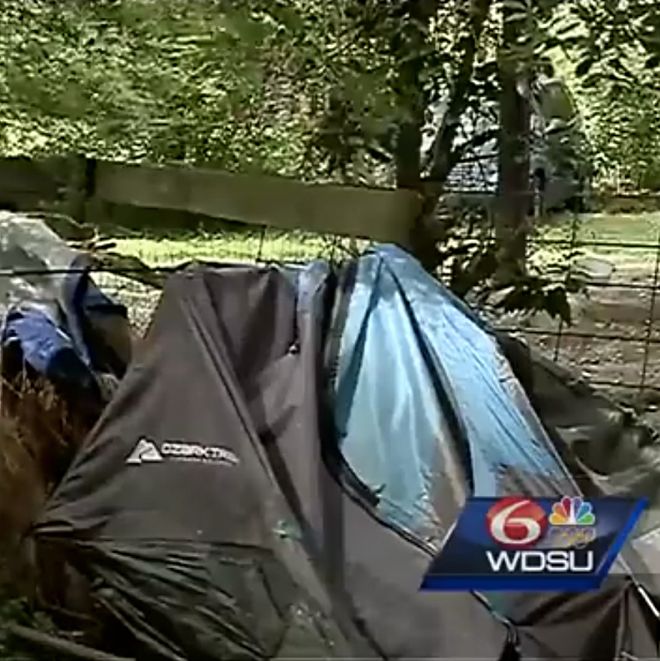 Based on an anonymous tip, local police found a 22-year-old autistic woman who was being forced to live in a makeshift outdoor cage, outside of a home in Amite, Louisiana.
According to The Advocate, "Investigators believe the woman had been forcibly held in the outdoor hovel since at least October, following her mother's death in August … They do not believe she was abused while her mother was alive." She was locked in at night, with only a bucket to relieve herself in; she was also malnourished and covered in bug bites when the police found her. Tangipahoa Parish sheriff Daniel Edwards said the five people arrested in the case are "somewhat related" to her, but he avoided sharing more details in order to preserve the victim's anonymity.
Three men and two women, who range in age from 18 to 43, were arrested on charges of cruelty to the infirm and human trafficking; they allegedly had plans to take her "to a specific location with the intention of prostituting her out to multiple male subjects for money."
The victim was taken to the hospital before being put in Adult Protective Services. Four minors were also taken from the home.
WDSU in Louisiana interviewed Rocky Stewart, who seems to be some sort of relative to the five people who kept the woman caged. He reported that they moved onto the property after his aunt died — presumably the woman's aforementioned mother — and that he never saw the victim. He said, "If I'd have known something, I'd have stepped in myself and talked to them or found out what was going on, but I had no idea and they never struck me as that type of people." Whatever that means.