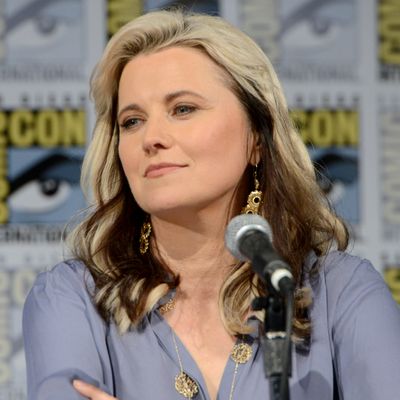 Queen.
Photo: Michael Kovac/Getty Images for STARZ
At Saturday's Women Who Kick Ass panel at Comic-Con, a group of veritable ass-kickers — including Connie Nielsen, Ming-Na Wen, Morena Baccarin, Melissa Benoist, Nathalie Emmanuel, and Tatiana Maslany — discussed many of the challenges facing female actors today. Nielsen talked about the lack of meaty roles for women who are neither young nor old, which is the traditional territory of the Best Actress Oscar; Baccarin expressed her desire to play both James Bond and a Bond girl; Maslany praised the influence of Jill Soloway and Lena Dunham on television; and Wen, like a true vet, broke down the finer points of fighting in heels versus lingerie.
Even these aspirational figures seemed to be inspired by another presence in the room, though. When asked what dream role she'd love to play, Wen looked down the length of the table and said, "I want to be Lucy Lawless."
Lawless, who ascended into the realm of iconography with her role as Xena, the Warrior Princess, seemed to function as a sort of Ass-Kicker-in-Chief for the Hall H panel. At one point, she had some hard-earned professional advice for her peers onstage: "Especially when you've been having babies, right, you think, Nobody's ever going to hire me again. So you take a show with the title that has three exclamation marks at the end. That's a giveaway, by the way: If its name is Vampire Bats!!!, that's not a working title. That's the title. You're going to be in Vampire Bats!!!"
But Lawless officially stole the show when the moderator asked the panelists to describe their most unusual encounter with a fan. As you might expect, the women had some creepy stories to share: Apparently, people go up to Nielsen in elevators and whisper, "I loved you in The Devil's Advocate," which is weird as hell and a thing you should not do; a dude asked Emmanuel to send him a pair of her underwear, because of course; and while working on V, Baccarin received a picture in the mail of a chocolate penis cake. Lawless's story, however, came from a very different place.
"It's a weird story — it makes me seem weird," she began. "It's a downer — I don't know if I should tell you, actually." Of course, that guaranteed no one was leaving Hall H without hearing this story, and after much ooohing from the audience, Lawless got into it.
I was at the deathbed of one of my fans. It was amazing and beautiful. In the early days of fame, you get much closer to the fans than you do when it's later, because you just can't keep it up. But I just got to know this amazing woman called Elena Santiago [Editor's note: It's not clear if this was her exact name], big Xena fan. She had been like — she used to transport nitroglycerine or some sort of bomb-making material in her undies when she was a kid for rebels in Cuba. Anyway, it all went horribly wrong, her family got broken up and dispersed, but she went on to become a very excellent human being and an educator. And I loved her, and then she got cancer, and at some point after Battlestar [Galactica] I said, "I'll come back to LA and come and see you," so I did, and I made it there and she went off watching me watching videos of her dad in Cuba back in the day.