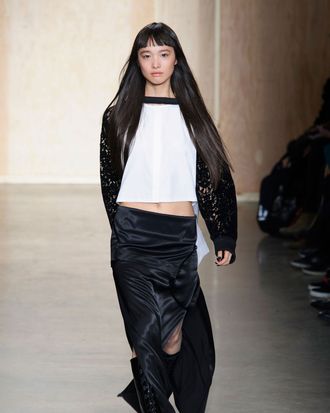 DKNY fall 2016.
Photo: Daniele Oberrauch/Imaxtree
Today, LVMH, which has been looking to sell Donna Karan International, announced that G-III will be buying the brand for $650 million, per a release from the company. (LVMH has owned the Donna Karan and DKNY brands since 1996.) G-III is a notably less starry affair than LVMH, but it has a solid portfolio, with fashion companies like G.H. Bass and Andrew Marc, and licensing deals with Calvin Klein and Tommy Hilfiger. It's unusual for LVMH to make a sale like this — the last brand they sold was Christian Lacroix, more than a decade ago — and it's unclear how that will change things at DKNY, which is currently helmed by Public School's Maxwell Osborne and Dao-Yi Chow.
Their debut season at the brand, in which they paid direct homage to DKNY's '90s heyday, was met with unenthusiastic reviews, though last season's sweatshirt-heavy show fared better critically. It sounds like the new owner is eager to take things in a more commercial direction. Given G-III's gung-ho plans to double the size of its business in the next three years, will Chow and Osborne be along for the ride?
Meanwhile, there's some good news for Donna Karan fans: The namesake brand has lain dormant since the house founder left last year, but G-III plans to relaunch the beloved line in some form. After all, in fashion, nothing ever really goes away.