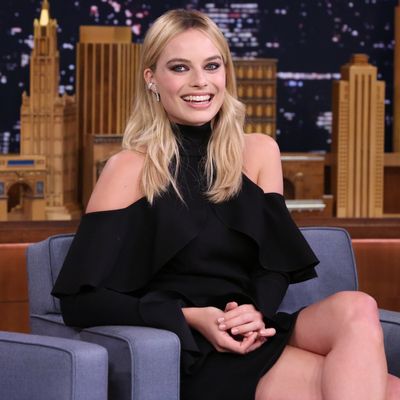 Photo: Andrew Lipovsky/NBC/NBCU/Getty Images
You know how Crocodile Dundee was like, "That's not a knife — this is a knife"? Well, that's Margot Robbie and homemade tattoos. Forget that old stick-and-poke stuff; Robbie has a tattoo gun and she isn't afraid to use it. But that doesn't mean she uses it particularly well.
"I've done almost 50 tattoos now," she told Jimmy Fallon. "And I'm getting worse!" Robbie said that she started with her roommates, and, well, the rest is at least semi-permanent history.
"On my birthday, my friends were like, 'What do you want for your birthday?' I was like, 'I just want to do more tattoos!'" (Robbie takes her birthday celebrations very seriously.)
Robbie also gave her Suicide Squad costars, director David Ayer, and even some crew members some sketchy-ass tattoos during filming. Most of the tattoos, which read "SKWAD," were misspelled on purpose, except for one poor schmuck who got a "SWAD" tattoo. Robbie wasn't the only one slinging ink behind the scenes; Will Smith tattooed Joel Kinnaman, and Cara Delevingne and Robbie gave each other "toemojis." The cast posted photos of their antics on Instagram last year, but you know, #tbt and so on. 
"Tattoo artists actually watching this show will be like, 'I hate this s**t,'" she joked, which is probably true. In any case, Fallon didn't offer up his virgin skin to Robbie's tattoo gun — that we know of.