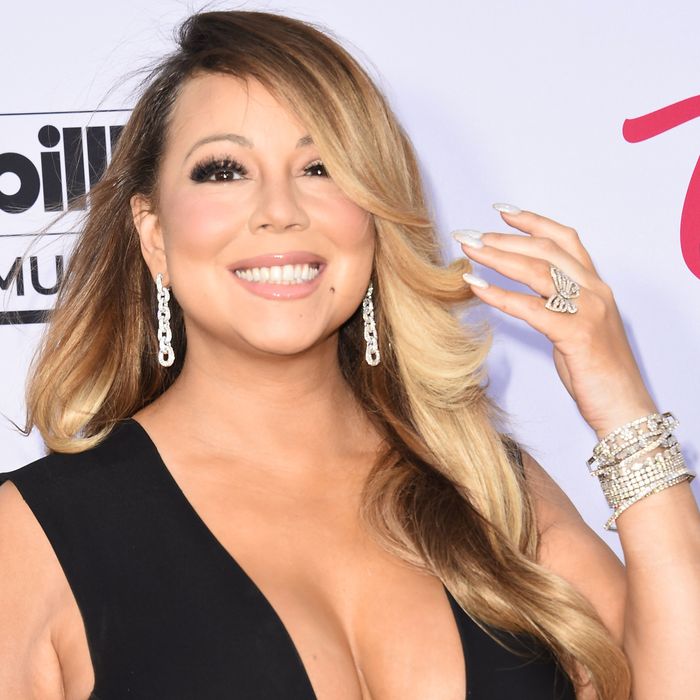 Mariah.
Photo: ROBYN BECK/AFP/Getty Images
Mariah Carey, along with having a long and illustrious career in music, also has a long and illustrious career in only doing things Mariah's Way. She doesn't walk if she doesn't want to, is always prepared to take a glamorous photo, forces people to dress up like her for her birthday party. Most recently, she insisted on entering a restaurant to the sound of her own music.
According to "Page Six," this happened while Carey was vacationing in Capri, Italy:
Diners at the famed Ristorante Aurora were stunned when, after a quiet dinner on Sunday, at 11 p.m. a loud Mariah song suddenly blasted, and in walked the star with her fiancé, James Packer, in tow. "She literally had an entrance song," our spy marveled
But her entrance was only a taste of the full Mariah Carey experience that would accompany her fellow diners:
Mariah's songs played all night. At one point, when someone at her table shouted, "Hey, let's put on something more upbeat," the staff played her hit "Fantasy," and everyone went crazy.
[Kisses fingertips like an Italian chef.] We would expect nothing less.