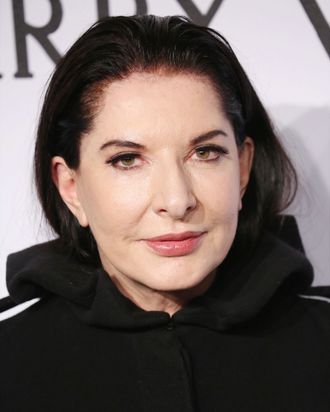 Photo: Walter McBride/Getty Images
Marina Abramović will turn 70 this November and, in a very personal interview with German paper Tagesspiegel, the famed performance artist talked about what it's felt like to have a 40-year career and the toll performance art has had on her life and choices. Abramović touches on a subject that is familiar to any woman in the arts (and really, any field) by suggesting that she knew from very early on that having children would have had an immense — and disastrous — impact on her career.
"I had three abortions because I was certain that it would be a disaster for my work," she said in the interview, translated by Artnet. "One only has limited energy in the body, and I would have had to divide it," she continued. "In my opinion that's the reason why women aren't as successful as men in the art world. There's plenty of talented women. Why do men take over the important positions? It's simple. Love, family, children — a woman doesn't want to sacrifice all of that."
Because Abramović never had kids and never got married, though, she says in the interview that she's "totally free." Sounds kind of good, actually.