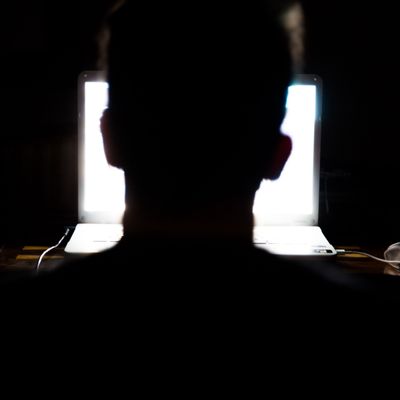 Photo: Artur Debat/Getty Images
A Seattle tech writer who has written for Forbes and Gizmodo is accused of raping three women years before he allegedly posed as a female porn recruiter to catfish other women into having sex with him.
The three women came forward in a new investigative report published Wednesday by Seattle's alt-weekly The Stranger. Their claims come just over a month after six other women told The Stranger that Matt Hickey, a 40-year-old freelance journalist and photographer, pretended to be a female indie-porn recruiter and solicited them for sex as "auditions"; three of those six women said he fraudulently coerced them into having sex.
The three new allegations of rape come not from aspiring porn actors but friends or acquaintances of Hickey. One woman says Hickey raped her in 2014, after he gave her multiple limoncello shots on a Tinder date and forced himself on her at his apartment. Another, who also knew Hickey through mutual friends and social networks, says Hickey came over in 2013 when she was sick, under the guise of helping her, before making her a hot toddy that caused her to black out and raping her while she was unconscious. She woke up naked and alone in her bed, and saw a condom wrapper on the floor. When she confronted Hickey in a series of Facebook messages, saying she would have never slept with him while sober, Hickey apologized but said she "seemed into it" as much as he was. "I thought you kinda liked me," he wrote. "I'm bad at signal comprehension I guess."
A third woman says she was 21 when Hickey raped her in 2001, after she got so drunk she could hardly stand at a friend's film premiere. He allegedly took her to his place to sober up and gave her a horrible-tasting drink. She only remembers sitting, drinking, and talking with Hickey before waking up partially dressed the next morning. When she confronted Hickey, he told her she had consented and "enjoyed herself." He said they had sex two or three times after he used his last three condoms.
She didn't report the alleged rape, echoing the pattern of underreported rape throughout the U.S.: Between 15.8 and 35 percent of sexual assaults were reported from 1994 to 2010, according to a Bureau of Justice Statistic study. And because Washington State's ten-year statute-of-limitations window for reporting first- or second-degree rape to police has now expired, she can no longer press charges against Hickey.
Because Washington State law doesn't currently regard "consent" as "affirmative consent," the women's claims aren't enough for officials to prosecute Hickey — for Seattle police to move forward without affirmative consent, according to The Stranger, other people must also be able to testify the victims weren't able to give consent. That means bartenders and other witnesses will have to substantiate the claims that the women were incapacitated to the point of unconsciousness, too drunk to know what was going on, or unable to stand up on their own. This is, of course, very difficult.
Though the Seattle Police Department told The Stranger its investigation into the various allegations against Hickey is "very much active and ongoing," Hickey told the newspaper he hasn't yet been interviewed by police. A spokesperson for the county's prosecuting attorney said the case hasn't yet been referred to their office.