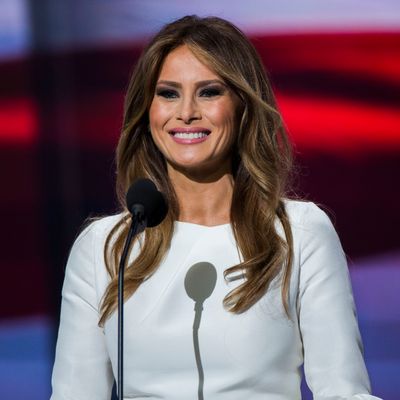 Photo: Brooks Kraft/Getty Images
The New York Post published a nude photo of Melania Trump on Sunday's cover with the headline "THE OGLE OFFICE" — promising, "You've never seen a potential First Lady like this!"
Inside are several nude photos of Melania Trump (née Knauss), taken for a French magazine back in the mid-1990s, before she met her future husband and current nightmare-presidential-nominee.
The Post talked to Trump for the feature, and he was totally unfazed. "Melania was one of the most successful models and she did many photo shoots, including for covers and major magazines. This was a picture taken for a European magazine prior to my knowing Melania. In Europe, pictures like this are very fashionable and common," he told the paper. On CNN's show Reliable Sources this morning, the Trump campaign's senior communications adviser Jason Miller defended the photos as well.
"These are photos that were 20 years old, before Mrs. Trump met Mr. Trump. They're a celebration of the human body as art. There's nothing to be embarrassed about with the photos. She's a beautiful woman," Miller said.
Trump and Miller are right to issue what's basically a shruggie emoji as an official statement. Using nude photos to shame another person is crass, tacky, and, in the case of revenge porn, an online scourge; using photos of Melania to try and shame her husband by proxy is even worse, as if whatever she's done in her life reflects on her husband. And it doesn't matter that the photos were taken before she met Donald Trump; it doesn't matter that they were taken at all.
Either way, it's certainly not going to embarrass Trump that nude photos of his former-model wife are available on newsstands everywhere — if anything, he's probably psyched — and chances are slim that this will be the straw that breaks the GOP's back. Besides, what happened to that whole plagiarism issue? Now that's embarrassing.