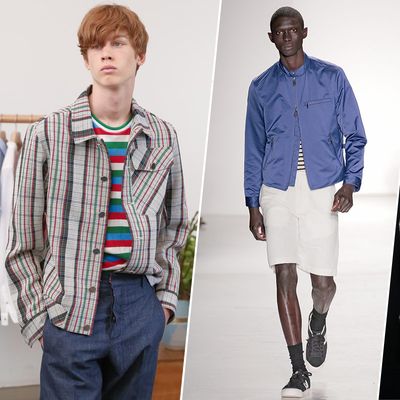 Orley, Todd Snyder, and General Idea Spring 2017
Photo: Getty Images, BFA
The character actor Dylan Baker, who's played some of the most twisted roles in modern cinema, doesn't show up on many designers' mood boards. But for Orley — the newly minted Council of Fashion Designers of America-winning label — he was front and center, clipped from a scene in Todd Solondz's Happiness. Designers Alex, Matthew, and Samantha Orley drew on Solondz's filmography and the creations of artist Mike Kelley, who hailed from their hometown of Detroit, for their spring 2017 collection, shown yesterday in a stunning modernist apartment.
"Their work tends to revolve around this idea of suburban ennui, and aesthetically, it compounds these different time periods," Alex Orley told the Cut. "It's the '50s, and the '70s, and the '90s. Nostalgia is always something that we do, so it's sort of about compounding those [eras] into something that feels almost unplaceable in time." They showed ugly-cool polos — a style that is a best seller for the label — in conversation-pit colors: Avocados and soft browns. T-shirts came striped and fitted in true Freaks and Geeks fashion. But the trio's marbleized, textured fabrics were the most eye-catching, especially since they were knit in a nifty 3-D configuration.
The Orleys weren't the only ones riffing on nostalgia yesterday, on the final day of men's Fashion Week. Todd Snyder showed his own clean, preppy take on the past, also mining the '70s. A slim navy-and-red tracksuit wouldn't have looked out of place on Prefontaine, while the striped T-shirts worn with blazers had more of a louche European feel. And at General Idea, Bumsuk Choi evoked a time when we were still excited about space travel via his out-there cultcore ensembles, some in fuselage silver and bearing slogans about Mars — a witty riff on the way we thought about the future in the past.