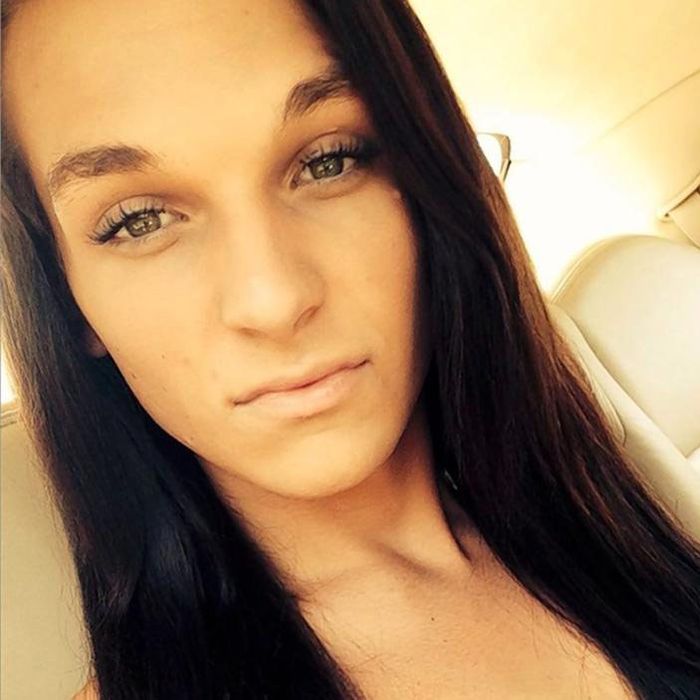 Mercedes Williamson.
Photo: Facebook
A Latin Kings gang member was sentenced to life in prison on Tuesday after admitting he killed his transgender girlfriend, 17-year-old Mercedes Williamson, whom Caitlyn Jenner remembered in her ESPY Awards acceptance speech last year. If a pending federal investigation deems the murder a hate crime, Josh Vallum could face the death penalty.
Vallum said he kissed Williamson in a car, reached between her legs, and blacked out after he felt a penis. When he woke up, he was standing over her dead body with a hammer in his hand. He claims he never knew she was transgender, but Williamson's roommate disagreed, testifying that the couple had an active sex life before the murder. Vallum's brother and a friend said she knew too much about the Latin Kings.
Seventeen-year-old Williamson was an aspiring cosmetologist living in Theodore, Alabama, where she and her 41-year-old roommate rented a one-bedroom camper for $50 a week. Vallum, 28, went by the name "King Chaos" and was the Latin Kings' statewide Mississippi secretary. Williamson once told her roommate that she and Vallum would be killed if the Latin Kings discovered the truth about their relationship; the gang's bylaws forbid homosexual relationships. "We all looked at each other, like 'Wow,'" the roommate said.
The couple broke up. About eight months later, on May 30, 2015, Vallum told Williamson he'd pick her up to go have sex somewhere. Williamson became suspicious when they crossed the Mississippi state line, according to court records, asking him, "Am I being set up?" Vallum stabbed Williamson with a knife, killed her with a hammer, and hastily buried her body under some brush. He placed the knife, hammer, a stun gun, and a cellphone in a plastic bag and threw it off a bridge.
On Tuesday, more than a year after the killing, Vallum appeared in court and pleaded guilty, speaking directly to the judge. "I killed Mercedes Williamson, sir," he said, explaining he had been diagnosed with bipolar disorder and is now on medication. He was sentenced to life in prison one week before a scheduled trial that would have called Latin Kings members as witnesses, potentially exposing details about the gang.
While Tuesday's sentencing closes the case in Mississippi, federal agents were reportedly in the courtroom as part of a U.S. Department of Justice investigation. If they determine the killing a hate crime, Vallum could face the death penalty.
Williamson was one of at least* 21 transgender women killed in the U.S. 2015, up from 12 in 2014, according to the National Coalition of Anti-Violence Programs. "Every human being has a right to live the life they choose," prosecuting district attorney Tony Lawrence said. "A person's hate, fear, or intolerance should not be an excuse to take another person's life."
*This post has been updated to show at least 21 transgender women were killed in 2015.