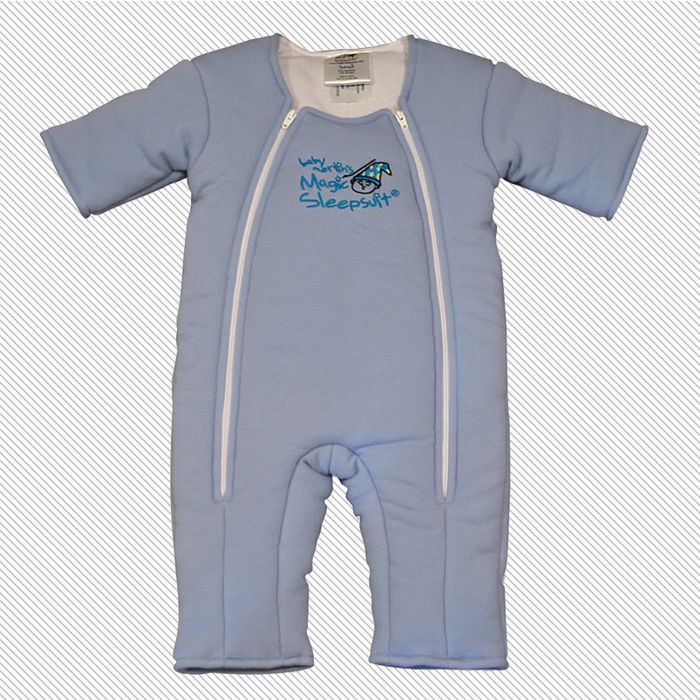 Baby Merlin's Magic Sleepsuit is a miracle lifesaver.
During the first eight weeks of my daughter's life, I was queasy with fatigue. I made a strict "lights out at nine" rule for myself, which gave me just enough time to scarf down some reheated soup for dinner, maybe take a bath, and get a solid three hours' sleep before Vivienne woke up to nurse at midnight. Our pediatrician told us things would improve after sleep training (and they did), but said we shouldn't expect to sleep with any regularity for the first two months. Meanwhile, I very unsuccessfully tried to navigate the world on little more than a few hours shut-eye every night. These were dark times.
One morning, I got a text from a mom friend that read, "Baby Merlin's Magic Sleepsuit will change your life. We got 10 hours last night." I was skeptical. This thing looked like a straitjacket for babies and, at $40, seemed like a more expensive version of the swaddles Vivienne had been breaking out of night after night. But I was desperate. I ordered a cream-colored-cotton version through Amazon Prime, and zipped my baby up the following night. She looked like the infant equivalent of the Michelin Man. But she slept for eight hours straight, and has given us a solid ten to 12 hours' sleep a night ever since, so I can't complain about aesthetics.
Miracle lifesaver? In my opinion, yes. But there are apparently patented mechanics behind the magic. Designed by Maureen Howard, a pediatric physical therapist and fellow exhausted mom, from Philadelphia, the Merlin Sleepsuit has made millions through word-of-mouth praise and virtually zero advertising. Howard channeled the cozy snowsuit her baby liked to sleep in (whatever works, right?), and now offers seasonal versions of the suit in cotton jersey or microfleece. The suit is like a really thick onesie that keeps infants grounded to the crib and muffles the startle reflexes that wake them up at night. There are hand and foot openings to offer a little bit of movement, but the suits keep babies securely contained for the most part. They come in two sizes — 3–6 months and 6–9 months — which means Vivienne, and me and my husband, will be able to sleep comfortably for a long, long time.
BUY IT: $40 at Amazon
The Strategist is a series of smart, obsessive shopping guides from the New York Magazine section of the same name. We've scoured the web to bring you the best of the best. Some of our latest conquests include rolling luggage, umbrellas, beach tents, incense, white T-shirts, nail clippers, and yoga mats. If you buy something through our links, we may earn an affiliate commission.  Please note that all prices are subject to change.