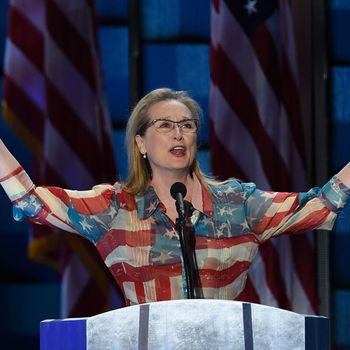 Photo: SAUL LOEB/Getty Images
Meryl Streep walked onto the stage at the Democratic National Convention on Tuesday, looking every bit like the patriotic woman she is.
Lest there be any mistaking her national pride, she wore a flowing knee-length dress, the sleeves rolled up just below the elbows, with the American flag printed on every inch of fabric.
When she got to the podium, she screamed with excitement and dived right in.
"What does it take to be the first female anything?" Streep asked. "It takes grit and it takes grace."
Streep told the tale of Deborah Sampson, "the first woman to take a bullet for our country," after disguising herself as a man in order to serve in the Continental Army during the Revolutionary War. Sampson, she said, had grit.
And grace? That would be Clinton, Streep said — especially after taking "some fire over 40 years."
All of which left Streep with a burning question about Clinton: "How does she do it?"
"Where does she get her grit and her grace?" Streep asked. "Where do any of our female firsts? Our pathbreakers? Where do they find that strength?"
Streep went on to compare Clinton to other notable women that made history as the "first" in their fields. People, she said, like Sandra Day O'Connor, the first woman on the Supreme Court; Sally Ride, the first woman in space; and Geraldine Ferraro, the first female vice-presidential nominee for a major party.
History had already been made earlier in the day when Democrats officially nominated Clinton as their party's nominee for the presidency.
Streep has no doubt about the future of Clinton involving another big "first."
"She'll be the first, but she won't be the last."
Watch the full clip below: