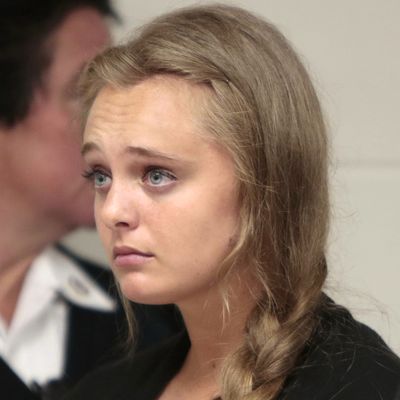 Michelle Carter will be tried for involuntary manslaughter.
Photo: Peter Pereira/AP
Michelle Carter, the then-17-year-old girl who sent her boyfriend Carter Roy dozens of text messages encouraging him to commit suicide, will face trial, the Associated Press reports. Carter was indicted by a grand jury for her role in Roy's death, but a lack of legal precedent left it unclear whether a trial would go forward. In a stern ruling, a Massachusetts Supreme Judicial Court ruled on Friday that Carter's texts amounted to a "systematic campaign of coercion" and constituted a "direct, causal link" to Roy's suicide.
Carter's lawyer had argued that her texts, which included messages like, "When are you gonna do it? Stop ignoring the question. ????" and "If you want it as bad as you say you do it's time to do it today," were protected under the First Amendment, and that Carter's own mental-health issues played a role. Furthermore, Massachusetts does not have a specific law prohibiting encouraging or verbally assisting in suicide.
But the judge ruled that "the coercive quality of the defendant's verbal conduct overwhelmed whatever willpower the 18-year-old victim had to cope with his depression, and that but for the defendant's admonishments, pressure, and instructions, the victim would not have gotten back into the truck and poisoned himself to death."
Involuntary manslaughter charges usually result from reckless, criminal negligence or misdemeanor charges such as hit-and-runs or driving under the influence. Prosecutors said they "appreciate" the court's decision and will focus on preparing for the trial, which has not yet been assigned a date.