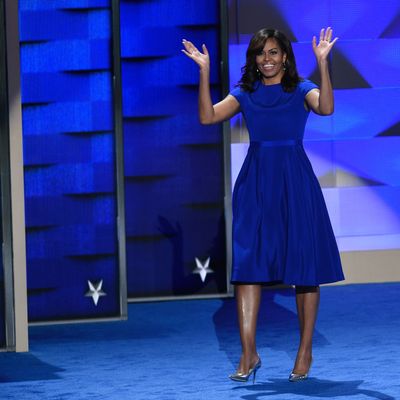 Photo: SAUL LOEB/Getty Images
It's a pretty well-established fact that Michelle Obama has quite the sense of style, often opting for any mix of prints, cardigans, and kitten heels. And when it has come to historic moments and special occasions, the First Lady usually steps up her game, often going for bold, celebratory looks with interesting patterns.
But the look must match the occasion.
And so, when it came time for the First Lady to speak at the 2016 Democratic Convention, she opted for a dress that didn't shout for attention.
Instead, the First Lady opted for a cobalt-blue dress in a clean and simple design by New York–based designer Christian Siriano that was well-suited for the occasion.
That FLOTUS wore a sleek design in a color that almost exactly matched the theme colors at the DNC may have been a strategic move on her part.
Too loud of a dress and the focus shifts to what she is wearing. That would have felt out of touch in a night dedicated to party unity and rallying voters behind Hillary Clinton. The focus needed to be primarily on Michelle Obama's words.
"Hillary has spent decades doing the relentless, thankless work to actually make a difference in their lives," she told the convention audience.
She spoke about Clinton's work with children and how she's never backed away from work that's "too hard."
"But here's that thing: What I admire most about Hillary is that she never buckles under pressure, she never takes the easy way out, and Hillary Clinton has never quit on anything in her life," she said.
Choosing a Siriano dress that featured cap sleeves with a cinched waist was a safe but beautiful style that fits in with the typical fit-and-flare form that the First Lady is so fond of. Her earrings for the night were also a clean, geometric design that peeked out ever so slightly from her hair.
Because as FLOTUS already knows, simple can be striking.