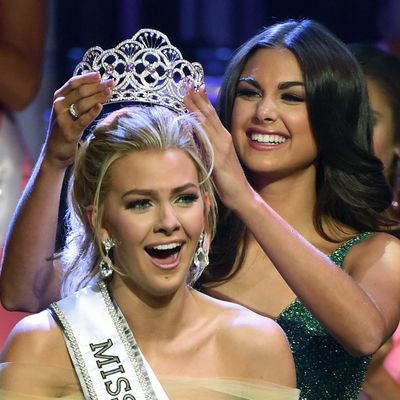 Photo: Ethan Miller/2016 Getty Images
You can delete your offensive tweets, but just like the North, the internet remembers. Or you can be like Karlie Hay, the newly crowned Miss Teen USA, who didn't even bother to delete tweets from 2013 and 2014 where she used the N-word liberally.
Twitter users screenshotted tweets from what appears to be Hay's old account, @haaykarrls, where the former Miss Texas Teen bandied about the N-word in a number of tweets to and about friends. The account has since been made private, but Hay tweeted via @RealMissTXteen a number of statements defending herself from criticism: "I admit that I have used language publicly in the past which I am not proud of and that there is no excuse for. Through hard work, education and thanks in large part to the sisterhood that I have come to know through pageants, I am proud to say that I am today a better person."
The Miss Universe Organization has not yet commented.