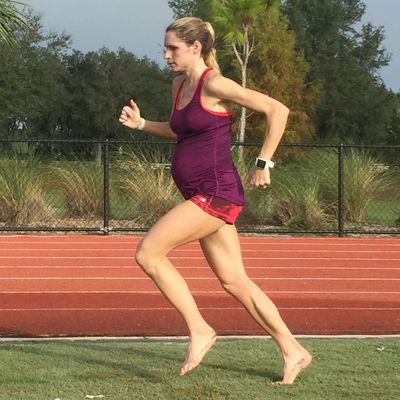 Sarah Brown running on Christmas Day at 27 weeks.
Photo: Courtesy of Sarah Brown
Update: Sarah Brown did not advance out of the first round of the 1,500 meters. Read her post-race comments here.
Tomorrow, Sarah Brown will lace up her racing spikes for the first round of the 1,500 meters at a track meet and throttle her way through nearly four laps. It's something she's done countless times before, but this race will be her first since she became a mom just four months ago, and it's on one of the biggest stages of her career: the U.S. Olympic Track & Field Trials in Eugene, Oregon. The top three in each event go to the Rio Games, and everyone else goes home. Brown knows the feeling: She finished sixth at the 2012 Trials.
Pro athletes usually plan their families around Olympic cycles, or simply wait until they retire. Brown had a copper IUD as birth control. And yet her husband and coach, Darren Brown, will be cheering her on from the stands with their daughter, Abigail, who was born on March 4. You could say that the past year didn't exactly go as planned for the Browns, although it started off practically perfect.
Brown, who runs professionally for New Balance, notched a personal record of 4:03.20 in May 2015 in her signature event, which is just short of a mile. (Her fastest actual mile is an obscene 4:26.67.) She followed up the 1,500-meter PR with a lifetime best in the 800 meters. She looked like a favorite to qualify for the World Championships that year and Rio the next. And then the wheels came hurtling off.
"I went from crushing workouts to, all of a sudden, in the second interval of a workout, I thought I was running in sand. Racing wasn't fun anymore," the 29-year-old told the Cut. "It was really frustrating because we had concentrated so hard on doing things right, and I didn't feel like I had overtrained. It was like, Why is this happening? What's wrong with me?"
An at-home pregnancy test was negative. After a few weeks she went to see her doctor, who told her that, well, the test was wrong. Less than 1 in 100 women with an IUD will get pregnant. Brown was that one.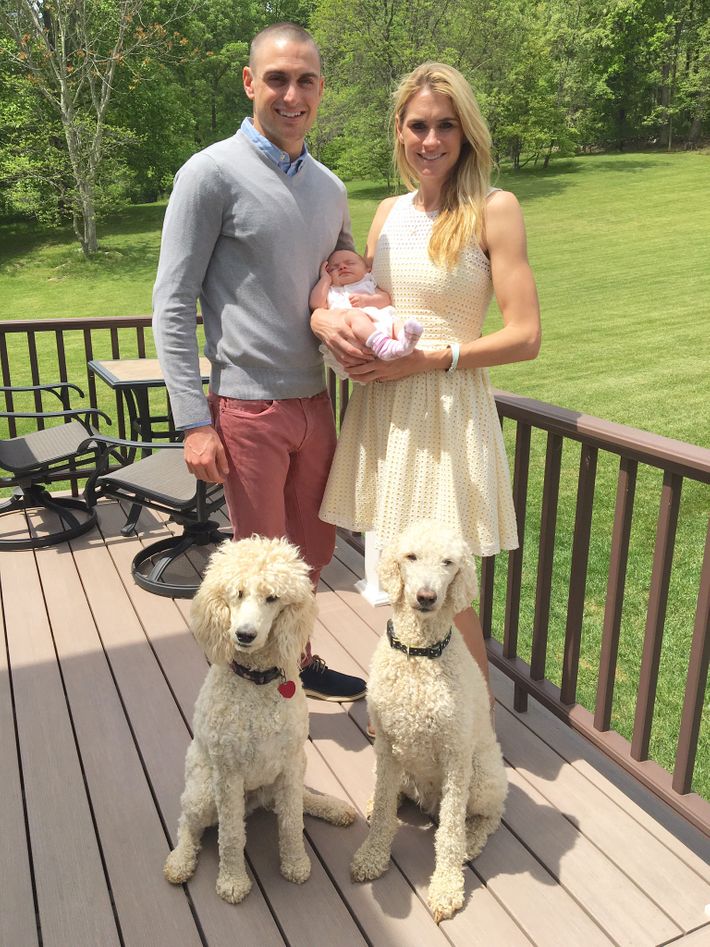 It used to be that pregnant women were told not to work out, but doctors have since come to recommend exercise (even high-impact workouts like running) as something that's beneficial for mom and baby.
Other pros have run through their pregnancies — most notably, Paula Radcliffe won the 2007 New York City Marathon ten months after having her first child, and plenty of mortal women have done it, too.
The Browns decided to give it a shot. Sarah, a four-time NCAA champion while at the University of Tennessee, had been running for half of her life, and her coach was just as invested in the health of her baby as she was. "For us, it really was a family affair. Our interests were the same. Our goals, both for our family and for me athletically, are the same. I felt really good about that."
Most middle-distance and distance runners work out twice a day almost every day of the week. When she got pregnant, Sarah had been doing just that, but swapping her second run for a cross-training session on a bike-elliptical hybrid called an ElliptiGO. (Darren has been a marketing manager for ElliptiGO since 2013, but Sarah was using the contraption long before then.)
After Sarah learned she was pregnant in July, they agreed there would be no more races. She promptly took her end-of-season two-week break, followed by two weeks of cross-training. When she started running again, first-trimester fatigue slowed her pace dramatically, but thankfully she wasn't nauseous.
Her doctor advised her not to exceed 90 percent of her max heart rate, and when she worked out indoors, she pointed any available fan in her direction. "I figured, 'I'm the pregnant lady [at the gym], no one's going to complain.'" Sarah also worked with a pelvic-floor specialist to keep her core strong.
By the end of her pregnancy, Sarah was running about 40 miles per week spread over four days, including a 12-mile long run. (Yes, even a miler does distances like that, and Sarah usually goes to 15 miles in her training.)
Much like the reaction to the Fit Moms of Instagram, the public reaction to a pregnant woman running laps on a track was … mixed. "There were people who were super supportive, and there were people who were very critical," she says. "I found a common theme with the people who were critical online: You could just tell by the comment that they hadn't actually read anything but the headline."
She read some of those comments aloud in a five-part espnW docu-series premiering this week, titled Run Mama Run:
Selfish bitch thinking of herself not her baby.
She's already a whack job, can't imagine what kind of parent she'll be.
It certainly helped having Darren in her corner as she fought past haters and other roadblocks, like back spasms around 21 weeks, which relegated her to a month of cross-training on the ElliptiGO and in the pool. Darren, who does the majority of Sarah's runs with her, even wore a weight vest. "I don't know if I could have done a lot of the things I did if [my coach wasn't my husband]," Sarah says, "just from a standpoint of him seeing me every day, working very closely with me, knowing how I'm feeling."
Abigail arrived a little more than two weeks before her due date, at five pounds and 15 ounces. Sarah went for her first run two weeks later, with her doctor's approval.
"We never took it off the table," she says. "There were many times where I felt like the door was closing, but there was always an inch of possibility. So far, I've slipped through that crack every time and made it through to the next step." In short, she's hoping to make the kind of unlikely comeback that rivals her odds of getting pregnant in the first place.
Does she have a chance? That depends who you ask. Her 4:03.20 from last May is the third-fastest time in the field. Sportswriter Ken Goe of The Oregonian called her "one of the favorites" to make the team, while other outlets don't mention her in their race previews. None of this matters to Sarah.
As she explained in the espnW documentary: "People are probably going to look at me like I'm crazy even thinking that I have a shot, but for me sitting on the sidelines would be more of a disappointment."
Editor's note: The first round of the women's 1,500 meters will begin at 9:26 p.m. eastern on Thursday, July 7, on NBCSN and nbcolympics.com. The semifinals will be shown on NBC at 8:03 p.m. on Friday, July 8, and the finals at 8 p.m. on Sunday, July 10.