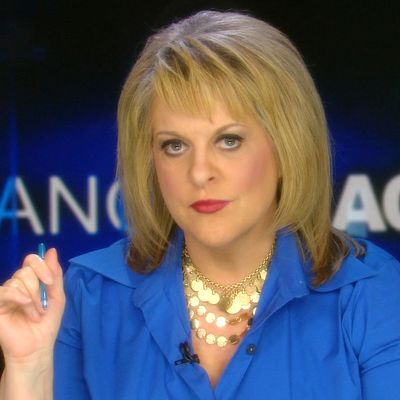 Nancy Grace takes no prisoners.
Photo: HLN
After 12 years with the network, Nancy Grace announced yesterday that she'll be leaving HLN once her contract is up in October. Grace, who's infamous for her televised reports slash crusades, told The Hollywood Reporter that her next gig will involve "a very large digital component," but she will "always be wedded to a traditional platform — which is TV, God help me." In honor of the end of an era, here are some of her most memorable TV moments, from covering "tot mom" Casey Anthony's trial to weeping on live television.
The moment she found a kid in a basement. In what might rank as the craziest Nancy Grace moment of all time, in June of 2014 Grace told Charles Bothuell IV on air that his 12-year-old son, who'd been missing for almost two weeks, had just been found in the basement of their family home. Bothuell freaked out, but Grace was not amused. "I don't know why you guys would have reported him missing," she scolded. "Did you check your basement?"
The 2 Chainz moment. Remember that time Nancy Grace shouted down 2 Chainz during a debate about marijuana? She even read some of his lyrics. Sure, it was a bit harsh, but don't worry — she and 2 Chainz are still cool.
The Casey Anthony moment. Grace's coverage of the Casey Anthony trial was some of the most-watched … and most opinionated. So it was no surprised that Grace took issue when Anthony received a verdict of "not guilty." She had a lot to say about the jury's validity, but her best line was: "Somewhere out there, the devil is dancing tonight."
The Duke lacrosse moment. When Nancy Grace says she wants stats, she does not mean sports stats. How are sports stats relevant to a case in which three members of the Duke University lacrosse team were accused of rape? Newsflash, Clark Goldband: They are not. Get it together, Clark.
The Jodi Arias moment. Grace followed the Jodi Arias trial almost as closely as she did the Casey Anthony trial, but unlike Anthony's, the Arias verdict was one she agreed with. Grace was on air when the Arias verdict was announced, and the emotion in her voice is clearly audible — objectivity be damned.
The moment with George Zimmerman's pal. Grace interviewed Frank Taaffe, a friend and vocal supporter of George Zimmerman (who has since changed his tune) multiple times following the 2012 murder of Trayvon Martin. And although she repeatedly had him on air, Grace was not a Taaffe fan. Of their many exchanges, my two favorites are (1) when, in a voice dripping with condescension she calls him "honey" and tells him to "get in line," and (2) when she straight-up cuts his mic.
Although we might not be seeing as much of Grace on TV, at least we'll always have her delightful tweets to look forward to.