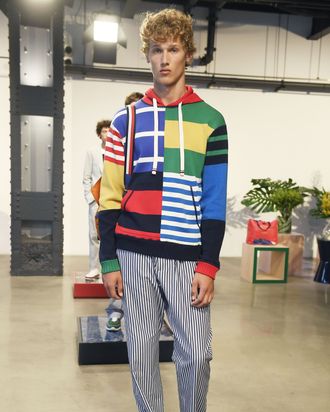 A look from Tommy Hilfiger's collection.
Photo: Victor VIRGILE/Gamma-Rapho/Getty Images
Only at men's Fashion Week would the models be sipping beer and martinis as they worked — nice work if you can get it, right? At Nautica's presentation yesterday, day-drinking was just part of the relaxed, preppy spirit. Creative director Steve McSween focused on sporty, WASPy basics that he updated with graphic prints and kitschy styling (for example, the skinny neckerchiefs worn with every look.) The theme was right on the (old) money, as several other men's designers explored classic Americana terrain.
At Tommy Hilfiger, floral trousers that an old salt from the Preppy Handbook might dub "go-to-hell pants" were worn with several looks. Stripes in different gradations and colors were mixed in others. The aesthetic was firmly nouveau-prep, always winking enough to say, "I'm not taking this too seriously, either." Even that rebellious standby, the leather jacket, featured an argyle inset: equal parts Richie Cunningham and the Fonz.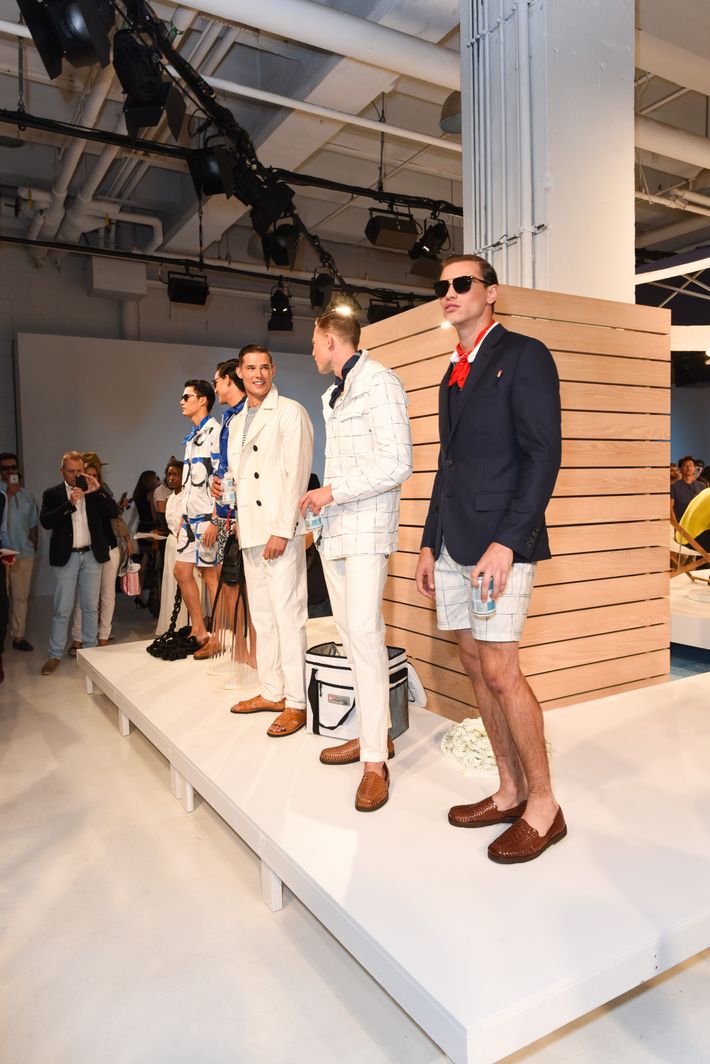 Speaking of rebels: Stuart Vevers's tenure at Coach has included a lot of biker moments, in both his men's and women's collections. He continued to be fascinated by the Hell's Angels aesthetic for spring 2017, which he originally showed at London Collections: Men earlier this summer. The reprise allowed editors to get a closer look at the stud- and bandanna-print-heavy offering, which also featured Perfectos in florid prints. Embellishments came courtesy of artist Gary Baseman, a longtime collaborator — a melting smiley face, a grimacing skull. Like Hilfiger's preps, these weren't clothes the actual subculture would wear, but twisted takes on them that would certainly be fit for a test drive.
There's been a political sub-thread running through the entire week, from the Black Lives Matter protest held on Tuesday to Uri Minkoff's show touching on the erosion of trust in contemporary America. Yesterday another label dipped a toe into making a statement beyond fashion, even if it wasn't an unequivocal declaration. Titled "Babylon," Assembly's presentation featured a cast entirely made up of African-American models of varying ages. "One of the visual cues I used to represent balance was the yin-yang," designer Greg Armas told the Cut. "Especially in the United States, a lot of things have been going on, whether religion- or race- or creed-related, so there was a little bit of social commentary going on, in terms of looking at our belief systems and what our goals and intentions are versus where we're at." That played into the casting, but it also, he said, boiled down to a black-and-white palette on up-cycled fabrics that were re-dyed and repurposed to fit the designer's vision. What better way to present your own take on a classic?