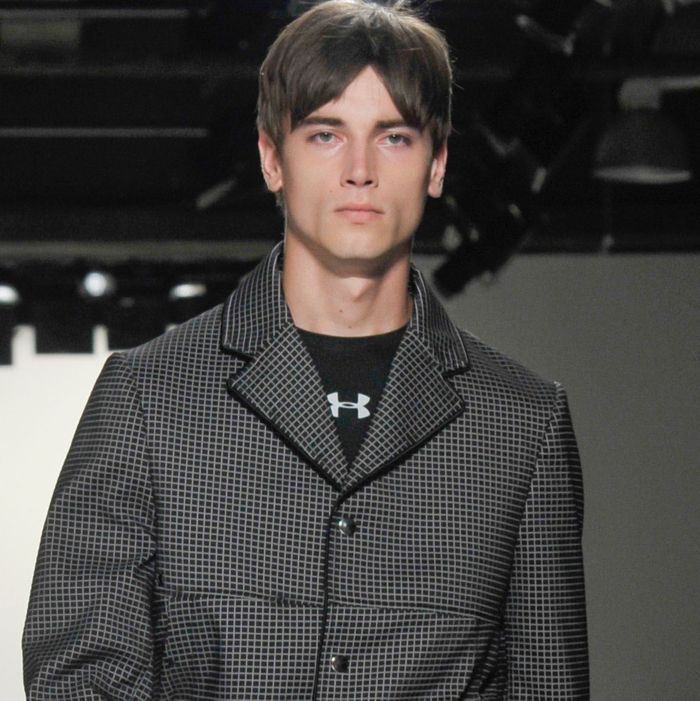 Tim Coppens spring 2017.
Photo: Kris Connor/Getty Images
When the Belgian designer and fashion darling Tim Coppens announced his new gig heading up the "premium" line Under Armour Sportswear, it made more sense than many indie-creator-and-mass-brand pairings. Coppens's work has long been influenced by athleisure, and his résumé includes performancewear design at Adidas and Ralph Lauren. Yesterday, on his menswear runway, Coppens presented an innovative way to take athleisure — a motif that, while undeniably going strong, is running low on novelty — in a new direction. While his own UA designs have yet to be debuted, Coppens combined pieces from the main Under Armour collection with his own, more tailored designs. So models wore compression shirts under blazers or sported UA sunglasses on the backs of their necks, hiking-dad-style. The designer also showed his first-ever shoe collection, in the form of clean, unisex sneakers with a bit of a Space Age feel.
"What's a suit now? Listen, the rules are different," Michael Kors noted during his presentation. The Kors man doesn't wear a tuxedo — he prefers a black tracksuit, the designer said. In between making jokey asides about Adele and Pat Boone, as is his wont, the designer sketched out his vision of athleisure, which consists of pieces that feel like your gymwear, while looking a bit more polished. He gestured toward a sweater that looked like mohair but was actually made from cotton and terry, saying, "Is it a sweater? Is it a T-shirt? I love the blend of the two." There was a lot of what Kors termed "hybrid dressing," in the form of clothing mash-ups like a peacoat-meets-anorak, a water-repellent windbreaker blazer, and a long belted cardigan that shared some DNA with a bathrobe. And he's bullish on dressing down in general: "The whole idea of pajama dressing and relaxed dressing is going to stay with us," he predicted.
Rio Uribe, whose freewheeling mix of sports attire and Holly Hobbie–esque crafty elements earned him a CFDA Award nomination for his line, Gypsy Sport, is sticking with what works for him. In a somewhat chaotic runway show, in which models repeated an endless cycle of looks — like Groundhog Day if it were a rave — he showed basketball jerseys modified into one-shoulder gowns, or unisex sports bras with flowing, lacy overlays. Instead of the oft-used "elevated" athleisure, think of it as "enlivened" — and halfway through men's Fashion Week, we could all stand to be enlivened.