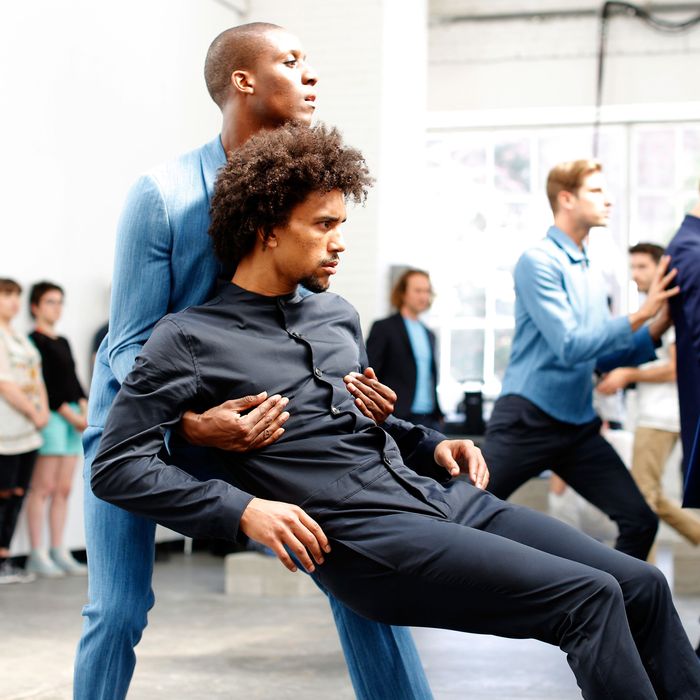 Models at Uri Minkoff spring 2017.
Photo: Thomas Concordia/Getty Images
The one thing New York Fashion Week: Men's might have in common with Esalen, besides all of the loose robes: The first day of the biannual event included models doing that classic therapeutic exercise, the trust fall. This twist on the standard line-'em-up-against-the-wall fashion presentation came courtesy of designer Uri Minkoff. He worked with performance artists Ryan Kelly and Brennan Gerard, who work under the name Gerard & Kelly, to put together the piece. "We're in this awful world where we've lost trust of each other, especially with recent events," he explained of the thinking behind the concept. Rather than use models, Minkoff cast a diverse group of professional dancers whose specialties range from ballet to street dance, in a touching tableau where they caught and held one another.
Fashion's attempts to address societal issues can often feel ham-fisted, but it was affecting to see a group of men interacting in this tactile, loving way. And the concept wasn't just about spectacle. The clothes — which included standard blue suits updated with athletic stripes and sporty bomber jackets — were made to flex with their movements. Having grown up as a triathlete, Minkoff says he has always been focused on performance. "Everything has a stretch component. I'm always thinking, How do I mix this idea of sport with tailored pieces?"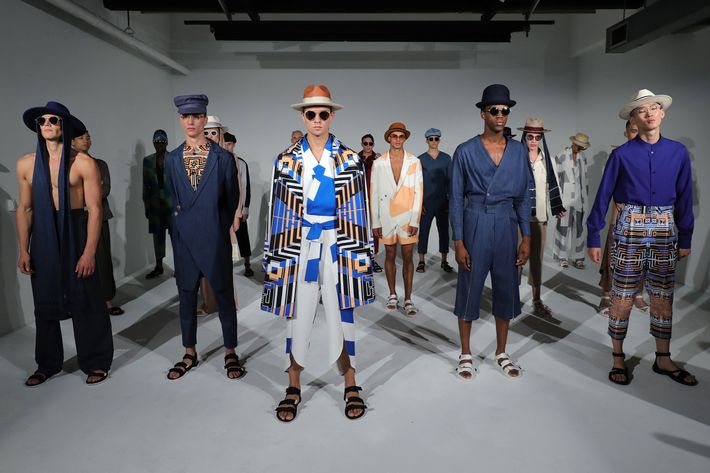 The touchy-feely dance element fit perfectly into the hippie-dippie overall vibe of the day. In case the palm-printed blazers and Venice Beach–boardwalk-style airbrushed tanks didn't tip you off, David Hart's collection was inspired by West Coast surf culture. The designer looked to legendary surf photographer LeRoy Grannis's photos and the music of Link Wray and Dick Dale, and models wore faux zinc oxide on their noses, for maximum verisimilitude. David Naman hit the surf note a bit more quietly with his pastel florals, while Korean brand Wood House, designed by Julian Woodhouse, was the most colorful — think neon color-blocked suits with matching turbans, or serapes printed with psychedelic–meets–Art Deco prints. All, of course, worn with dad sandals that could immediately transition to these guys' spiritual home, the beach.