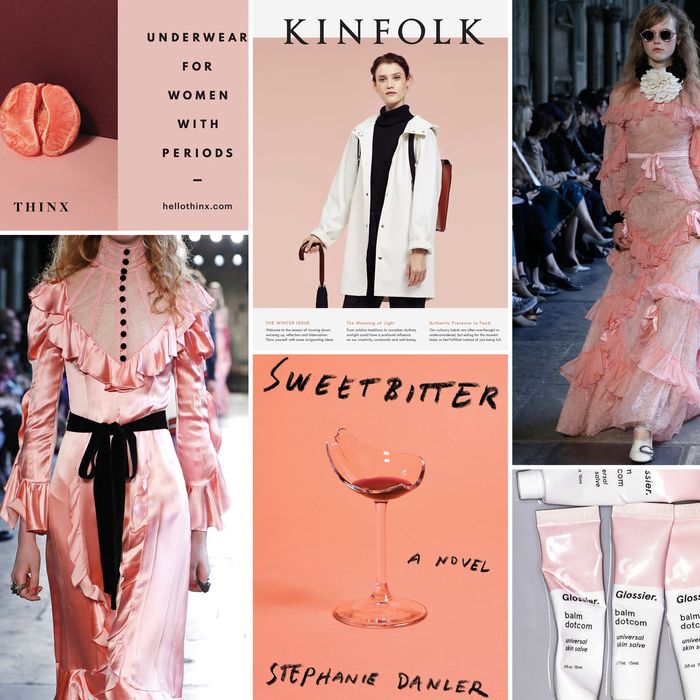 "im in a grouptext about how everything looks like this now," MTV writer Darcie Wilder tweeted on Friday of the salmon shade that has taken over fashion and graphic design, from Thinx ads to Glossier campaigns to the cover of Kinfolk and the logos for Acne and the Wing, which bills itself as "a home base for women on their way." Her followers immediately responded with even more examples: vibrator ads, Mansur Gavriel boxes, the Everlane newsletter. The titration of actual pinkness varies a little, but it's still a fairly narrow spectrum — from salmon mousse to gravlax, to extend the metaphor. Call it "millennial pink."
A cohort raised to distrust pink has turned contrarian and embraced a muddied, faded version of the color. This summer, we're conspicuously reading Sweetbitter, drinking a matching glass of frosé, and Instagramming it all with our rose-gold iPhones. Instead of the minimalism that's dominated fashion for the past few years, we're firmly into maximal, ruffled, not-pink pink from the Gucci resort collection (or its Zucci equivalent).
Remember when pink was déclassé? Pink used to be Malibu Barbie and Bubble Yum and all the bright plastic items that many of us in this particular group were steered away from as kids. And that specific shade of pink is not the one that's resurfaced. Instead it's ironic pink, pink without the sugary prettiness. It's a non-color that doesn't commit, whose semi-ugliness is proof of its sophistication.
We're in a moment of ambivalent girliness — a moment in which we celebrate, say, Hillary cracking the glass ceiling but can't quite get into the human embodiment of magenta, Katy Perry, stumping for her, themed nail art and all. We're embracing our girlier impulses: our vocal fry, the "likes" and "ums" we were told would hold us back, our #girlboss-ness. (Want to take a guess as to the color of that book cover? Yes, it was not-pink pink.) But we're not quite there yet. We still have to hold something back. There's still an implicit divide between women who lean into honest-to-God pink and all that it implies, and women who are allergic to that kind of thing.

By all means, enjoy whatever color you like — revel in mustard or taupe or chartreuse if that's what makes you happy. Dress like Barbie or Fran Drescher or Fran Lebowitz, if you want. But ask yourself: Do I like this because I like this or because I'm buying back my own re-packaged childhood in the form of blush-toned lip gloss and stickers? Because the Pantone industrial complex is direct-marketing to my generation?
Or maybe I'm, like, overthinking it.