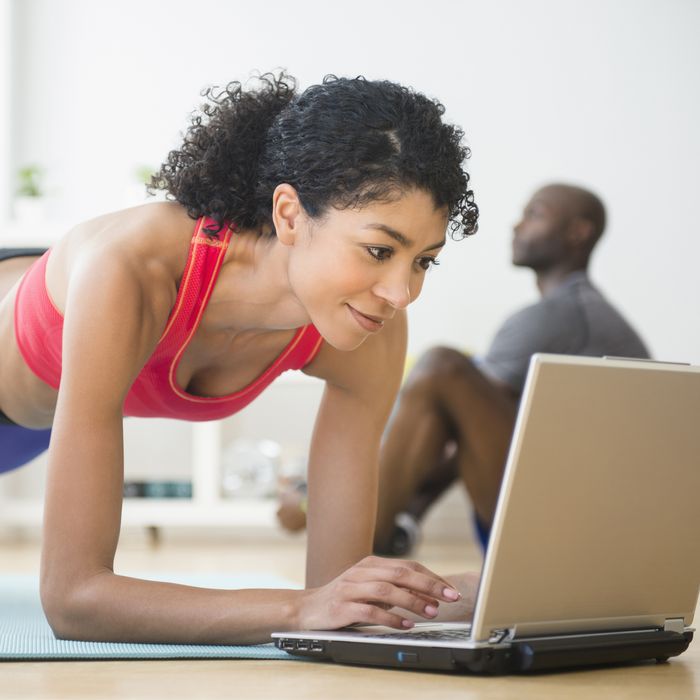 No. Nope. Nah.
Photo: JGI/Jamie Grill/Blend Images/Getty Images
We're living in a workaholic climate, one in which women with babies are expected to return to work practically the day after giving birth. Now, you can even "hack" your days so you can go to work and work out in the very same place! While the "campus" culture of companies like Google and Facebook has included gyms for years, the overworked side-hustler will soon have an office at her gym too. Enjoy.
The Wall Street Journal reports that the casual hangout spaces at many gyms are expanding to include outlets, more seating, and free Wi-Fi for members so that when you're done working out, you can easily get back to work. Equinox's vice-president of design, Aaron Richter, told the WSJ that if the hangout space in one of their San Francisco gyms proves popular it will grow from 1,150 square feet to 6,000 square feet. Another gym franchise, Life Time Fitness, takes it a step further. From the WSJ:
Life Time Fitness, a 121-club chain based in Chanhassen, Minn., has a location in downtown Minneapolis with two conference rooms for members. Its gym in Tampa, Fla., has a business center. In other locations, such as the recently opened one on New York City's West Side, Life Time is installing or adding high-top tables to accommodate people who want to do work.
This may seem like one easy way to jointly knock out two things that you begrudgingly do anyway — go to work and exercise — but it's a slippery slope. How long until you start going to the gym to do work and forget to work out? How soon until you spend 10 hours at your local gym location? Can you really handle all that Calvin Harris music?