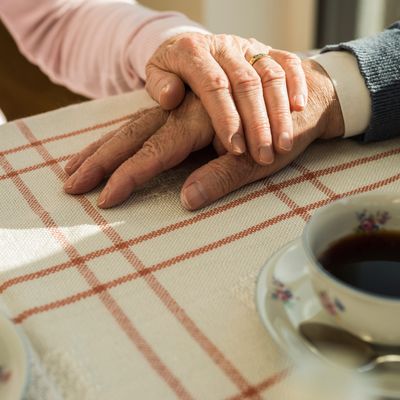 Get it, grandma.
Photo: UWE UMSTAETTER/This content is subject to copyright.
Newsflash: Older people have sex. In fact, in a study published in February, researchers found that sexual activity is tied to improved cognition in people ages 50 to 89. And at least one nursing home — Hebrew Home in the Bronx — is embracing that fact. The home is all for its residents being in relationships, and it's published a "sexual-expression policy" and set up happy hour, a prom, and a dating service (G-Date, or Grandparent Date) to prove it.
According to the New York Times, about 40 of its 870 residents (or about 5 percent) are in relationships, which is pretty good odds. (It's much better odds than Tinder, where 5 percent of users would mean 2.5 million people had found relationships through the app.)
As Baby Boomers age, facilities like nursing homes will face an uptick in residents — and that means they'll have to figure out, at an institutional level, how to deal with those residents having sex with each other. So far, however, only a few have formal policies governing intimate relationships between residents.
But according to the Times, nursing homes are slowly coming around to the idea:
Nursing homes in New York and across the country have increasingly broached the issue as part of a broader shift from institutional to individualized care, according to nursing home operators and their industry groups. Many have already loosened daily regimens to give residents more choice over, say, what time to bathe or what to eat for dinner. The next step for some is to allow residents the option of having sex, and to provide support for those who do.