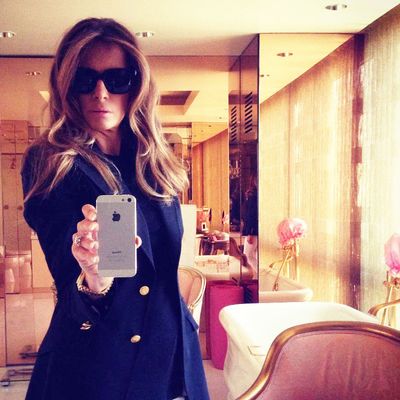 Photo: Courtesy of Twitter/MELANIATRUMP
Melania Trump is a woman of few words. On the rare occasions she does speak, it's to discredit reporters who have profiled her or to plagiarize Michelle Obama. So we have often wondered, what could possibly go on in the mind of the woman married to Donald Trump? Her Twitter offers us a glimpse behind her mysterious facade. And what a glimpse it is.
Melania has only tweeted 1,164 times to her husband's 32,600 missives. Out of those 1,164 tweets, 772 are photos. I have looked through every single one of them, and now I feel like I simultaneously know much more and much less about the woman who could become our nation's First Lady.

Join me on this journey of knowledge, discovery, and highly pixelated jpegs.

Like many a user of social media, Melania often posts photos of the meals she enjoys. They are very healthy, which you know because she has told you as much. (It also appears that she studied at the Martha Stewart School of Food Photography.)
Though, like any of us, Melania enjoys a poorly lit personal pizza every now and then.
And once she made this demonic bunny cake. We must never speak of it again.
When Melania is not posting food, jewelry from her line Melania Timepieces & Fashion Jewelry, or various vacation spots that she and the Donald are visiting, she's posting photos of herself. Melania was famously an ex-model, so unlike all you plebes who have to focus on things like angles, photo resolution, or lighting, she just posts whatever she likes. For instance:
And finally, she takes the time to ponder the deeper questions in life.