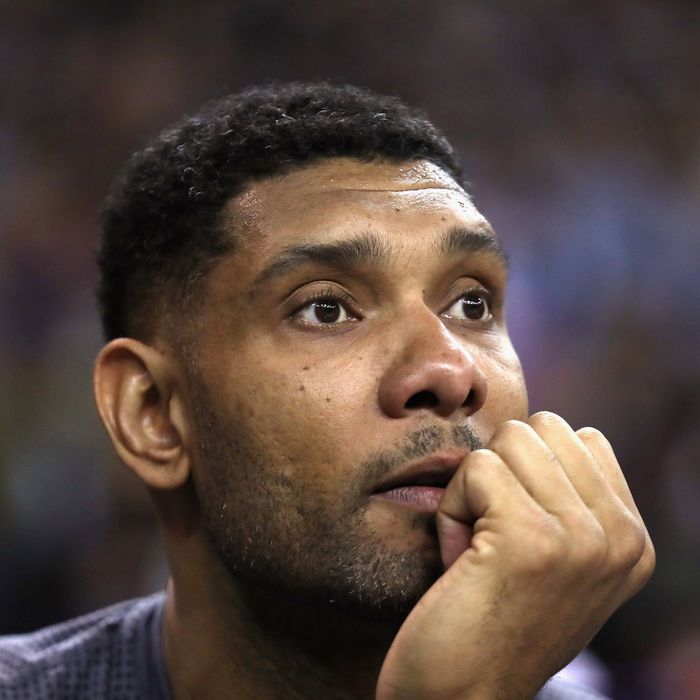 Tim Duncan, thinking.
Photo: Ezra Shaw/Getty Images
After 19 seasons, five championships, and two most valuable player awards with the San Antonio Spurs, Tim Duncan, probably the greatest power forward basketball has ever known, retired Monday. His retirement note took all of one page — double-spaced — where the soft-spoken star thanked his coaches, his fans, his teammates, his opponents, and his family.

It's somehow unsurprising, then, that when Duncan was a standout college player at Wake Forest University, way back in 1995, he co-authored a chapter in the clinical psychology text Aversive Interpersonal Behaviors. The chapter title: "Blowhards, Snobs and Narcissists: Interpersonal Reactions to Excessive Egotism."
"It's a piece of lore inside social psychology," Mark Leary, the lead author, told the Wall Street Journal. "He's probably the best-paid person to write any psychological chapter or article ever."
You can see Duncan's other-centricity in the chapter's abstract, which, because it's great, I'll block quote right here:
Few interactions are as annoying, exasperating, and unpleasant as those with people whom we perceive are behaving egotistically. The words commonly used to describe egotistical individuals are extremely disparaging; we call them arrogant, haughty, big-headed, vain, conceited, stuck-up, pretentious, and brand them blowhards, show-offs, snobs, narcissists pompous asses, or worse … Simply put we don't like egotistical

people.
It sounds like he could be talking about a certain other recently retired superstar who turned his final season into a farewell tour.
The Journal piece gets into how Duncan acted as a psychology collaborator: As you might expect, he was quiet to start out, then started getting into freewheeling discussions with his team. In a statement on Monday, NBA commissioner Adam Silver said that Duncan's "devotion to excellence and mastery of the game led to five NBA championships, two regular-season MVP awards and a place among the all-time greats, while his underrated selflessness made him the ultimate teammate." Looks like his undergraduate research rubbed off on him.