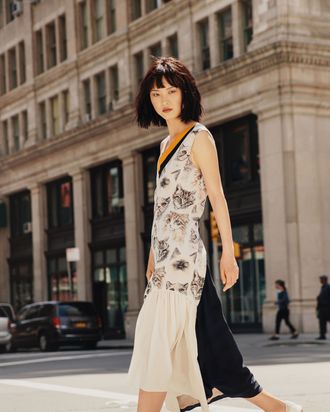 In a world where Pokémon Go is more popular than Tinder and people are resorting to aggressive signs to keep players out of their gardens, it seems like everyone wants to be a kid again. And really, who doesn't entertain the fantasy of ditching stuffy, responsible work clothes in favor of something more free? For your inner 7-year-old who would rather run straight for the swings with their friends instead of being stuck inside a cubicle, this Stella McCartney dress is for you. Featuring sketched cats and a swishy silhouette, it's the kind of thing you put on when you have zero responsibilities and all the time in the world. And because you can't make a dash for the ice-cream truck in heels, it only makes sense to wear it with a pair of sneakers.
i. DRESS: Stella McCartney Ilona dress, $1,885, Stella McCartney
ii. SNEAKERS: Cole Haan GrandPrø sneaker, $130, Cole Haan
Photographer: David Urbanke; styling by Diana Tsui; model: Xuchao Zhang at Muse Management; makeup by Samantha Lau; hair by Jerome Cultrera; photo editor: Raydene Salinas.