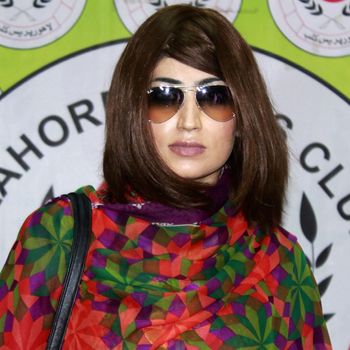 Photo: STR/AFP/Getty Images
Pakistani social-media celebrity Qandeel Baloch was murdered by her brother in what police suspect was an honor killing. Her brother allegedly strangled her to death after an argument at their family's home in Multan, Pakistan.
Baloch became a celebrity by posting pictures and videos that toed the line of propriety for women, whose rights are already deeply circumscribed in the conservative country. Baloch, whose real name was Fauzia Azeem, had recently posted on her official Facebook page, "I believe I am a modern day feminist. I believe in equality. I need not to choose what type of women should be. I don't think there is any need to label ourselves just for sake of society. I am just a women with free thoughts free mindset and I LOVE THE WAY I AM."
Last week, Baloch addressed rumors that she had been previously married, and told an interviewer that she viewed her actions as a sort of "revenge" on Pakistan and the society that forced her to marry against her will at the age of 17 or 18.
"Nothing is good in this society. This mardon ki society (patriarchal society) is bad. You probably know this already, think about the problems you face yourself.
"Being a girl, think yourself, how difficult it is to move around as a woman in this society. How many men do you encounter who bother you? The same way, I have struggled through difficulties to make a place for myself in showbiz. It was very difficult. What kind of problems I have faced, I don't think anyone can understand," she told Dawn.com.
In light of the threats she received, Baloch had requested extra security from the government, to no avail. She told The Express Tribune, "I know I will not be provided security and I am not feeling secured here so have decided to move abroad with my parents after Eidul Fitr," the holiday that marks the end of Ramadan.
Qandeel Baloch's brother is still being sought by police for her murder.