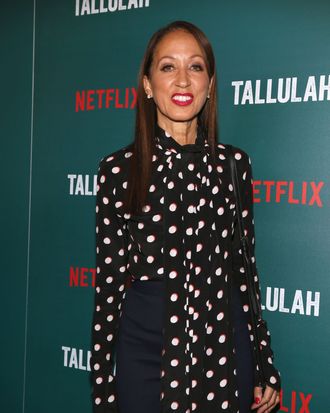 Pat Cleveland at the Tallulah premiere.
Photo: Sylvain Gaboury/Patrick McMullan via Getty Images
Pat Cleveland's new memoir, Walking With the Muses, covers the model's storied career on the international runways of the '70s and '80s. Discovered by a Vogue editor at age 14 on a subway platform, Cleveland was one of the first African-American supermodels, inspiring designers like Halston, Stephen Burrows, and Karl Lagerfeld.
Last night at a screening of Tallulah hosted by Netflix and the Cinema Society, Cleveland confessed to the Cut there wasn't room in the 352-pager for all of her adventures.
"A lot of stories have not been told," she said. "The ones that are in there have to do with growing up and being safe and surviving, and having fabulous people around. But what they don't know is all of the little characters who made it possible."
Cleveland does get a lot of A-listers into the book — her favorite anecdotes include "Touching little things with Nina Simone, singing with her in the corner in Paris, knowing Eubie Blake as a child, having a godmother who was Marian Anderson, the opera singer."
But she said she wished there was more about the "lovers that make your life interesting." (Cleveland has been linked to Mick Jagger, Muhammad Ali, Warren Beatty, and Jack Nicholson.)
"The bottle is just so big, and just so many bubbles fit in there," she said, magnificently equating her life story to a Champagne bottle. In her next book, she plans to "focus on the lovers." Can't wait.