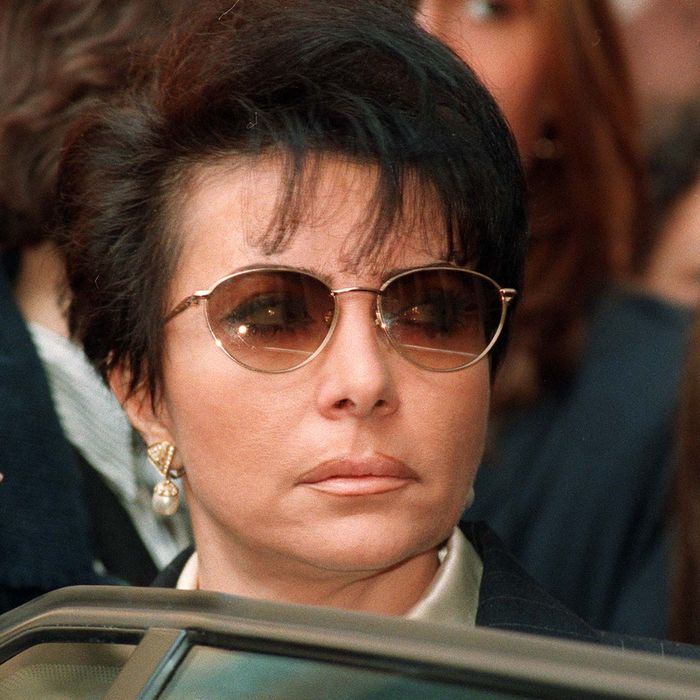 Patrizia Reggiani, pictured in 1995, arranged for the killing of Maurizio Gucci.
Photo: Luca Bruno/AP
Once known as Italy's "Lady Gucci" in the 1970s and '80s, Patrizia Reggiani is most famous for hiring a hit man to kill her ex-husband Maurizio Gucci, the last member of the family dynasty to run the label, in 1995. Now, after 16 years in prison with a pet ferret named Bambi, the 67-year-old is working in Milan as a jewelry consultant — on parole, which could end in a few months.
In a new profile for The Guardian, writer Abigail Haworth found Reggiani and revisited the enthralling murder trial. Interestingly, Gucci has continued to largely ignore the murder: It went to trial in the mid-'90s, around the same time the brand began to revive itself under Domenico De Sole and Tom Ford. Even stronger now under the creative direction of Alessandro Michele, Gucci did not comment for The Guardian's story. "Yet the amnesia is odd, because the saga has everything: glamour, greed, sex, death, betrayal, raging status anxiety," Haworth writes. "It probably says more about the primal allure of a name like Gucci than all the sales figures in the world."
As outlined here, a scintillating cast of characters give a behind-the-scenes glimpse of the murder, and what's next for Lady Gucci.
Gucci's last heir: Maurizio Gucci was the grandson of Gucci's founder, Guccio Gucci. After he married Patrizia Reggiani in 1972, the two became "one of Italy's first celebrity power couples," Haworth writes. They had two daughters and led a glamorous life in Italy, throughout the world, and in New York, where a chauffeur drove them from an Olympic Tower penthouse to parties with Jackie Onassis and the Kennedys (the car's personalized license plate: "Mauizia"). They sailed to private islands on a 200-foot yacht, stayed in a ski chalet in St. Moritz, owned a home in Acapulco, and owned a Connecticut farm.
After his father Rodolfo Gucci's death, in 1983, Maurizio Gucci took over his father's 50-percent stake in the company, and the marriage unraveled. As CEO, he dismissed other relatives from the company and tried to rebuild Gucci's diminishing status. "Maurizio got crazy," Reggiani told The Guardian. "Until then I was his chief adviser about all Gucci matters. But he wanted to be the best, and he stopped listening to me." The company lost millions over the next several years, the couple divorced, and Maurizio Gucci sold the company to Investcorp for $120 million. He started living with a tall blonde woman and her 11-year-old son in an opulent apartment on Milan's Corso Venezia boulevard. Reggiani reportedly considered her multimillion-dollar divorce settlement and yearly $630,000 allowance "a mere bowl of lentils."
The "gold digger": After leaving Reggiani, Maurizio Gucci lived with his partner Paola Franchi and her son for five years. Now 61, Franchi told The Guardian that Reggiani stalked and often called Maurizo to threaten to kill him. She pleaded with him to hire a bodyguard, "but he refused," she said. "He didn't believe Patrizia would go through with her threat because of their girls." Franchi was portrayed in the media as a gold digger, but she casts those claims aside now: "Actually my previous husband, whom I left for Maurizio, was even richer, so it was all nonsense."
The doorman: On March 27, 1995, around 8:30 a.m., former doorman Giuseppe Onorato was sweeping leaves at the doorway of Maurizio Gucci's private office when the heir appeared, walking up the steps. "Mr. Gucci arrived carrying some magazines and said good morning," he remembered for The Guardian. "Then I saw a hand. It was a beautiful, clean hand, and it was pointing a gun." The gunman shot Maurizio Gucci three times in the back, once in his head, and fired twice at Onorato. "I was cradling Mr. Gucci's head," he said. "He died in my arms."
The psychic: After the murder, Reggiani easily evicted the mistress and her son from the lavish apartment (in a note time-stamped three hours after his death) and lived there for two years with her daughters before her psychic tipped off police. On the day of the trial's verdict, Gucci stores reportedly hung silver handcuffs in shop windows. All five involved in the murder were found guilty: Reggiani — who was convicted for arranging the murder — the psychic, a hotel porter, the hit man, and a getaway driver.
The pet ferret: After Reggiani was sentenced to 26 years on appeal, her lawyer negotiated for her pet ferret, Bambi, to accompany her in prison. Reggiani stylishly euphemized her 16-year sojourn at Milan's San Vittore Prison while speaking with The Guardian, calling it "my stay at Vittore Residence." Prison life was quiet: "I slept a lot. I took care of my plants." Bambi was killed after an inmate sat on him.
The jewelry designers: Two years ago, after Reggiani was released on parole, the Milan-based costume-jewelry company Bozart hired her as a "design consultant." Once famous in the 1980s for outfitting Madonna and Pamela Anderson, Bozart seems to view Reggiani's work (reading fashion magazines to report on trends, trying on jewelry, and advising designers) as an image boost for sales. She is now computer-less, after accidentally deleting the company's entire photo archive. "I don't like computers. They are quite evil," she explained. She cast aside compliments on her dress before the interview: "It's Zara. I don't earn enough at this place to buy proper clothes."
The cranky mother: Ordered by the court to live with her 89-year-old mother in a Milan townhouse, Reggiani now occasionally dreams of prison life: "Sometimes I wish I was back inside Vittore Residence because my mother is very difficult. She berates me every day for no reason."
The daughters: Alessandra and Allegra Gucci are both married, extraordinarily rich after inheriting their father's fortune, and living in Switzerland. They own the yacht and the family's residences in New York, St. Moritz, and Milan, and seldom make the trip to see their mother. "They don't understand me and have cut off my financial support," Reggiani said. "I have nothing, and I haven't even met my two grandsons."
Lost love: "If I could see Maurizio again I would tell him that I love him, because he is the person who has mattered most to me in my life." Prompted by Haworth, she imagined Maurizio's reply: "I think he'd say the feeling wasn't mutual."