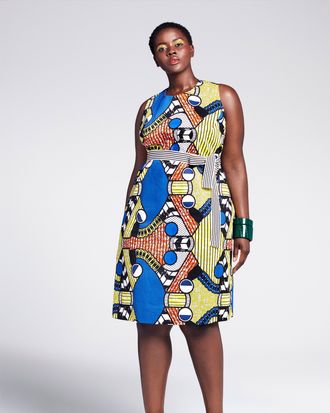 Philomena Kwao, "plus-size" beauty.
Photo: Christian Hahn
Philomena Kwao's skin glows. That's a cliché people use to describe models' skin, but in her case, it's actually true. The smooth, poreless texture of her skin needs no retouching in photographs, and it's just as flawless in real life. With a growing number of campaigns and commercials in her portfolio, the modeling maverick has steadily advanced her career and built an engaged following on social media. She's the face of Torrid (a trendy clothing line owned by the same parent company as Hot Topic, for sizes 10 to 30) and appeared in Sports Illustrated this year, but like many "plus-size" models in the industry, a big beauty contract still eludes her. The Cut talked to Kwao about beauty ideals in American music videos, the truth of the camera, and the politics of the word "plus."
So you were discovered in a model search. 
In London, my friend sent my pictures into an agency called Models 1. They wanted to go into the curve with a company called Evans and Cosmopolitan magazine. They called me and I was like, "What?" I went through the whole process, and then they told me I won! It's been amazing ever since.
You never thought about modeling before. 
No, I think the whole "plus-size" thing is  very American. In the U.K., the word "plus" was alien. You wouldn't hear it on TV, you wouldn't hear it in magazines. We've always known models to be Naomi [Campbell] or Jourdan Dunn. We've never known a model to be anything else. So I didn't think I could be a model.
But because of Instagram and accessibility, we're now seeing a globalization of different fashion trends. Previously plus would have been an exclusively American thing. Now, there's nothing that really belongs to any particular geographical location. It's truly international.
As someone new to the term "plus," what do you think when you hear it? 
I think we put too much importance on words. I get it. At the end of the day we're human beings and we need to describe things. If I want to book a model, I need to know whether the model is plus or straight. I need to know whether she is black or white.
But if you want to take "plus" and then make it a dirty and negative word, I honestly feel that's more on you. It's dangerous to take a word and try to remove it or destroy it, just because it doesn't mean something for you. It might mean something for someone else. At the end of the day, I'm a model. I'm a plus model. I'm a black model. I'm a curvy model. I am all of those things. But those things do not make me, me.
Growing up, I didn't really define myself in any way. I didn't have a problem with my size. I grew up in inner-city London in a very black community, so it wasn't really a thing. I went to boarding school in a posh, rural area with a different demographic of people, who did care more about their size and their image. That's when I started to notice my size and my image.  
Then there was the influence of watching American music videos, where every girl had the tiny waist, a big bum, was light-skinned, and had long hair. That negatively affected me as well, because I remember wanting to be … well, not skinny. I never wanted to be skinny. I've always wanted to look like the video girls or wanted to have lighter skin. I really had a lot of trouble accepting the fact that I was dark-skinned.
How have you become more accepting?
Modeling's helped. You can go through life without truly looking in a mirror. I never really looked at myself. When you model, you don't really have control over your image. It can be a good thing, it can be a bad thing. It can be a good thing in the sense that actually you have to get reintroduced to yourself. You don't always get that opportunity in your normal life. You can kind of hide from yourself. But whenever I have a day where I'm feeling fat, a day where I'm feeling good, a day where I'm feeling ugly, a day where I'm feeling bloated — whatever — that is me.
With every job, I've had to say hello to myself over and over and over again, and it's made me become more comfortable in myself, because you truly are exposed. With the exposure comes a little bit of normalcy and comfort. My experience is not true for everyone. For some, it is crippling, but for me, I've actually found it an empowering experience.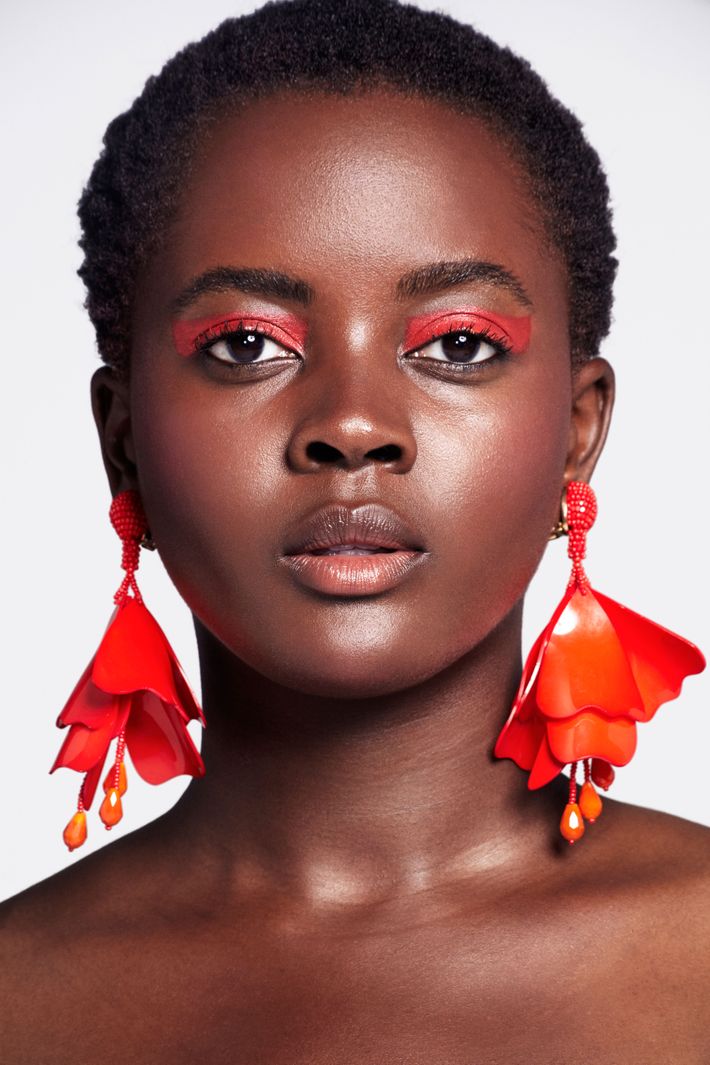 What do you feel like are the connotations with the word "plus"?
When I first started modeling, I came over to Ford. Plus was powerful. There was no shame in it. It was like, "Oh, you're a plus model? Oh my God! Well done! Wow!" I don't know where the shame has come from. Over the past couple of years, plus modeling in itself has become a bit more divisive. You're seeing smaller girls who obviously are not plus come up and say they don't want to be called plus, rightly so. It's made the word even more negative than it was before. I don't think that's a good thing. I'm a brand ambassador for Torrid, and I interact with plus women and see how hurtful that word is to them. For a smaller person to come and say to them to "get rid of the word" that empowers so many women, I don't see it as productive in any way. It's weird.
Nobody thought "plus" was a dirty word. So this whole plus debate that is new, I don't think it's a positive thing. I don't think it's a productive thing. I don't really understand it. I kind of want it to go away so we can get back to working.
What do you think when you hear the word "fat"?
Fat is fat. This goes back to the word "plus." We describe things. We are humans and we need to describe things. If you want to turn around and make "fat" an insult, then okay, cool, do that for you.
When you're not having a great day and you're at a modeling shoot, how do you push past it to feel good?
It's mental. You've just got to get with it. If I'm feeling really, really crappy, it sounds so cliché, but if I wake up extra early in the morning and do some sort of physical activity, I usually feel a little bit better. Or I do other things that make me happy. I'll call my boyfriend, my sisters, or my goddaughters. They make me happy. I'll watch cartoons. I'll read a book. I will do whatever it takes to make my mind at peace, so I'm distracted from whatever's going on about how I feel about my body, and I just do other things.
How do you think about wellness? 
You know, I don't know too much about it. I love technology. I love the Internet. In a world of oversaturation and instant gratification, we've learned how to pause. Wellness is just pausing. It's something that has been practiced before and will be practiced by humans who need some time out to say, "It's okay. Let's stop. It's too much." This culture of now, now, now, me, me, me, is too much. Wellness is just another way to describe it.
As humans, we get tired. There's only so much we can pour in ourselves.We can't switch off. Do I think wellness is a positive? I don't really know that much about it to say whether it's a positive or negative thing. But the overall concept of taking  time to really register your mental health and what's going on inside you is a good thing. Anything that supports that, for me, is a good thing.
This interview has been condensed and edited.